Sesame Tofu Buddha Bowl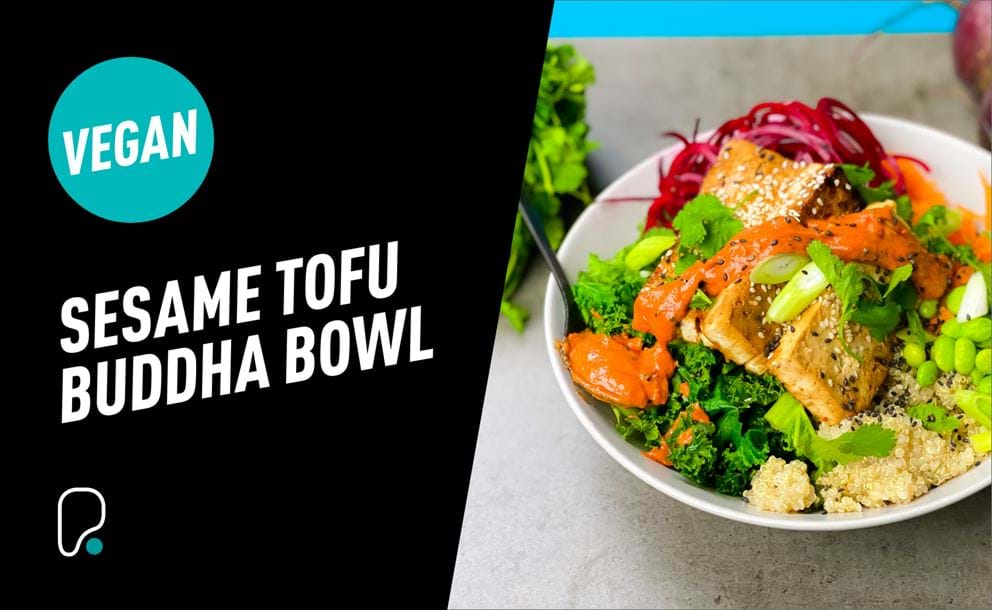 If you're looking to reduce your meat intake, or even just find meals which are easy, nutritious and packed full of veggies and fibre then look no further. This Vegan Sesame Tofu Buddha Bowl with Thai dressing is healthy, delicious, contains 22g of protein and comes in at only 439 kcals! It's ideal for both meal prep or a quick grab and go dinner when you're on a time crunch.
Ingredients
Serves 2
150g firm Tofu, sliced into 2-4 pieces
100g quinoa, cooked
2 carrots, shredded
2 tsp sesame seeds
1 spring onion
50g Kale
20g edamame beans, cooked
50g beetroot, spiralized
1 tsp sugar
1 tbsp soy sauce
Handful of fresh coriander
Thai dressing:
1 tbsp Thai red curry paste
3 tbsp coconut milk
1 tsp black sesame seeds
Method
Prepare your Buddha bowl with cooked quinoa, shredded carrots, edamame beans, beetroot and kale.
Add the Thai red curry paste and coconut milk to a small pan, and gently stir on a low heat ready for serving.
Then using a non - stick pan over a medium heat, add your tofu slices to the pan and cook for 2 - 3 minutes on each side until golden brown.
Whilst your tofu is cooking mix together your soy sauce and sugar then gently pour oven the tofu in the pan and leave to simmer. Turning the tofu in the pan to get a nice glaze over both sides.
Place the glazed Tofu into your Buddha bowl, either as strips or cubes depending on preference, and top with sesame seeds, spring onions and fresh coriander.
Finally mix in the black sesame seeds with the Thai dressing and serve all together.
Looking for more vegan recipes? Click here to try our Vegan Cauliflower Tacos with a delicious garlic marinade and a spicy cashew sauce for a creamy but tangy kick.