Cauliflower Tacos with Spicy Cashew Cream Recipe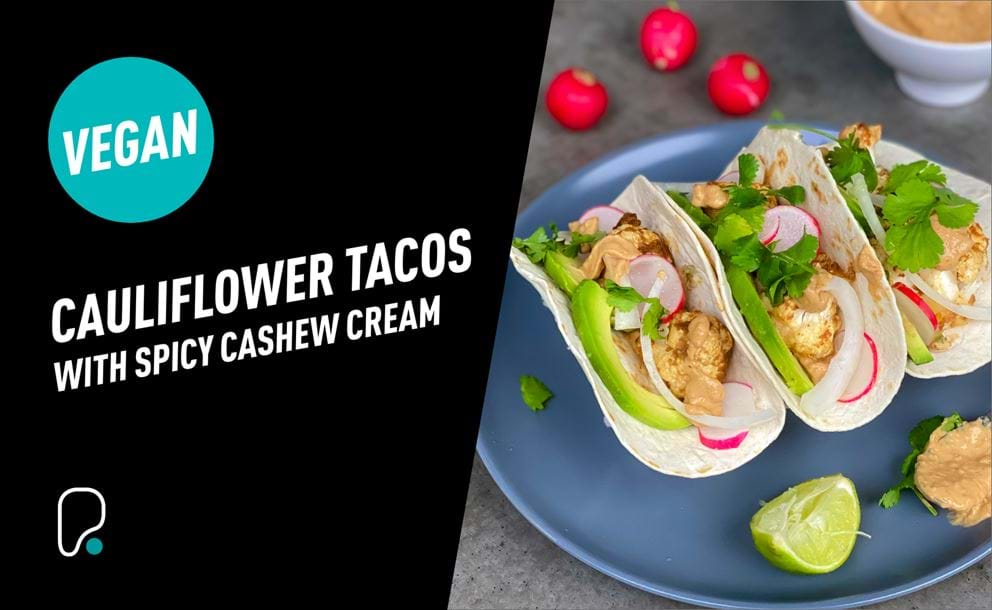 If you're thinking of taking on the Veganuary challenge this month or even just looking to reduce your meat intake give this recipe a try. These mouth-watering vegan cauliflower tacos will take taco night to the next level. They're 100% plant based but still packed with lots of flavour. Made with a delicious garlic marinade and a spicy cashew sauce for a creamy but tangy kick.
Ingredients
(Serves 4)
12 mini tortillas / taco shells
2 cauliflower heads, separated into florets
4 garlic cloves, crushed
2 tbsp olive oil
3 tsp ground cumin
2 tsp smoked paprika
1 tsp salt
Cashew Cream:
1 tsp red chilli flakes
1 tbsp minced garlic
4 tbsp cashew butter
2 tbsp lime juice
½ lime, zested
2 tbsp water
Salt and pepper to taste
Garnish:
1 onion
1 avocado
1 radish
Handful or fresh coriander
Method:
Preheat your oven to 200 degrees Celsius.
Combine olive oil, cumin, paprika, garlic and salt to a bowl and mix to create a marinade.
Add chopped cauliflower florets to the bowl and coat in your garlic marinade.
Place the cauliflower onto a lined baking tray and pop in the oven for 30 minutes, turning halfway through.
Whilst the cauliflower is cooking, it's time to make your spicy cashew cream. Simply mix together all of the ingredients until fully combined and place into the fridge until you are ready to serve.
Next up, prepare your garnishes. Slice and dice your avocado, radish and onion and separate your coriander stems.
Finally, heat a frying pan, and place tortillas on to warm for about 20-30 seconds each side. You want them to brown and warm but not burn.
Top your tortillas with the marinaded cauliflower, garnishes and a drizzle of the spicy cashew cream sauce. Enjoy!