Zingy Chicken Rice Box Fakeaway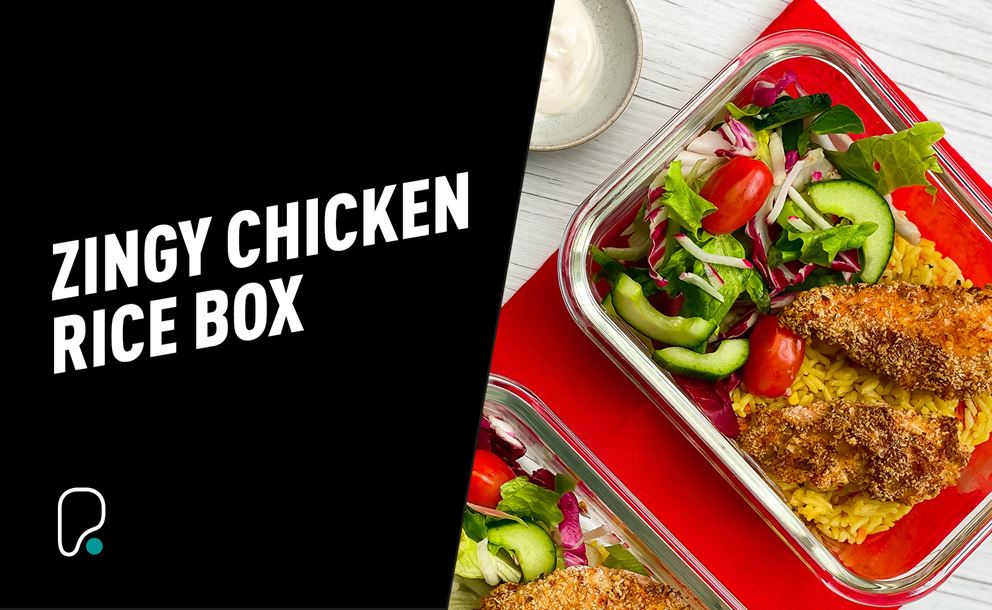 Craving a takeaway but still want to get your gains? Look no further than our high protein Zingy Chicken Rice Box with 45g protein and only 9g fat.
This high protein homemade take on the fast-food favourite is a great way to satisfy your cravings with tasty, flavoursome food – while staying on track with your goals. Our crispy spiced chicken is baked rather than fried, cutting the fat without compromising on flavour.

We've also made it budget friendly at only £1.45 per portion - a fraction of the price of the takeaway alternative.
These Zingy Chicken Rice Boxes are tasty as a Friday night fake-away or are great as an on-the-go lunch the next day to get your protein hit in. Let us know if you give them a try!
Ingredients (serves 2):
200g chicken breast
1 egg beaten
50g panko breadcrumbs
2 tbsp plain flour
200g golden vegetable rice
100g salad
Spice Mix
1 tsp garlic powder
½ tsp smoked paprika
½ tsp dried thyme
½ tsp dried oregano
½ tsp ground ginger
½ tsp cayenne pepper
½ tsp mustard powder
1 pinch sea salt and black pepper
Method:
Preheat your oven to 220c.
Mix spices together well and then stir in breadcrumbs to make your Kentucky flavoured coating.
Next place a beaten egg, flour and your spiced breadcrumb mix into three separate bowls or plates ready for coating the chicken.
Slice the chicken breasts into mini fillets and then dip into the flour, then egg, then spiced breadcrumbs. Once coated, place onto a baking tray.
Place the chicken in the oven for 35 - 45 minutes.
Once chicken is crispy on the outside and cooked through, serve with golden vegetable rice and colourful salad.