Your Beginners Yoga FAQs Answered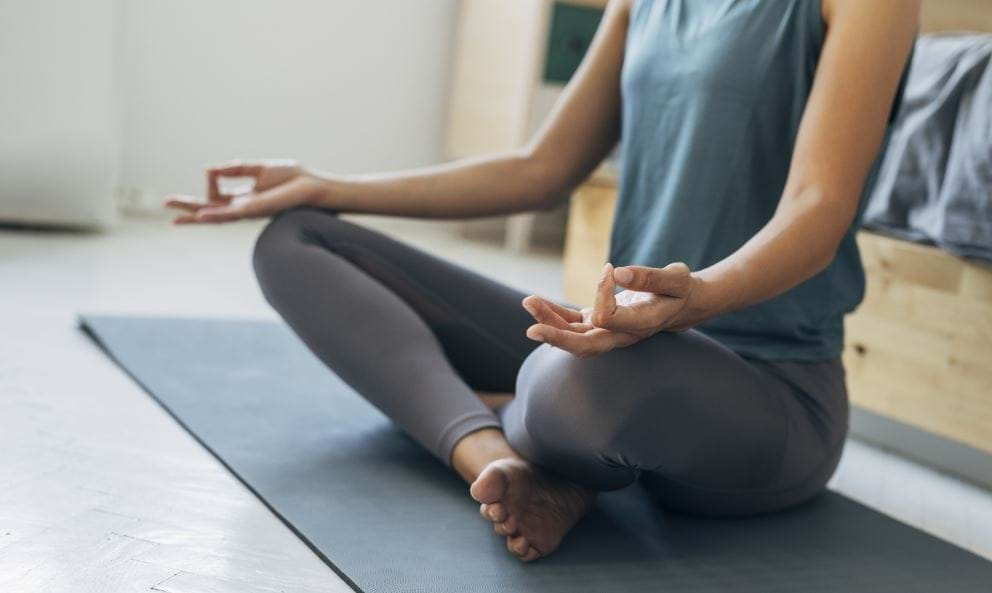 Best routine | Is yoga hard | What to wear | Which yoga type | How often | Which yoga mat
Yoga is a fantastic form of exercise for all fitness levels, ages and abilities, as it's a gentle way to get your body moving, as well as improving mobility and flexibility to boost your performance in other sports and activities.
If you're new to yoga, you'll no doubt have plenty of questions about how to get started. We spoke to PureGym fitness coach and Hatha Yoga teacher Jen Buddington to answer some of the most popular questions we hear from beginners.
What is the best yoga routine for beginners?
One of the best starting points for anyone new to yoga is sun salutation. A sun salutation flow (routine) guides you through the foundation of yoga poses in a gentle sequence which is both mentally and physically empowering.
Sun salutation is a gentle workout for the whole body, stretching, flexing and toning the muscles. The health benefits are more than a physical practice; connecting breathing to movement allows the mind to calm.
Sun Salutation flow for beginners, each pose to be held to allow three to five slow breaths before flowing into the next pose, repeat three to five breaths in each pose. 

You can discover more poses to try over on our best yoga poses for beginners page, or learn about the different types of yoga here.
How hard is yoga for beginners?
Any new physical movement can feel like a challenge at the start. Having said that, with time, consistent practice and patience the body will adapt.
Many people are put off trying yoga as they don't think they are flexible enough, when actually the very practice of yoga will go a long way in improving your flexibility. Poses can be adapted depending on your ability, and yoga equipment like blocks can help to make poses more accessible.
Yoga is a practice for all – start today and you will not look back.
What should a beginner wear to yoga?
Great question, what to wear to a yoga class? Wear clothing that does not restrict your movement, instead think of comfort and fit so you can focus on the poses instead of tucking in a top or pulling up your leggings (speaking from past experience here!).

Top: Fitted tank tops stay in place, and keep you covered. Thinking of poses like downward facing dog, you do not want your top to fall over your head.

Bottoms: Fitted or loose yoga pants allow movement without restriction. Choose leggings which are not see-through and stay in place means you can do your practice without being distracted or worried about them.

Sports Bra: Choose a sports bra which suits your body type and supports your yoga poses.
Which type of yoga is best for beginners?
Hatha is the foundation of yoga styles across the western world. Hatha yoga is a gentle practice which focuses on connecting your breath with a static pose. It's a great way to learn the basics and focus on the mental and physical aspect of yoga.
Once you're comfortable doing Hatha yoga then you can then try other types to see which you prefer. Always remember, yoga practice is your practice therefore it can be as mentally and physically challenging as you allow it to be.
How often should a beginner do yoga?
I would recommend initially once or twice per week for the first two to four weeks and then increase to three times per week (or more) once your body has adapted to the new stimulus and you are ready to progress.
As mentioned in this yoga study[1]: "individuals should practice as often as possible, especially in the beginning. The length of the induction phase will vary depending on an individual's initial level of fitness and health status; the more difficult yoga is for someone in the beginning the more their body needs it."
Some people practise yoga every night before bed, as it's a fantastic way to help you relax and improve the quality of your rest. You can discover some of the best poses for sleep and relaxation here.
What type of yoga mat is best for beginners?
Having your own yoga mat has many benefits, most notably that it's more hygienic, and means you can make sure to use a mat which meets your specific needs in terms of size, comfort, weight and type.
So, how do you choose your first yoga mat? Here are few key areas to consider:

What surface will you be practising on? Think of the environment you are practising in; is the floor carpet, wooden, stone or outdoors? If you're practising on a wooden floor at home, you may prefer a thicker mat for comfort compared to a yoga studio floor.

What type of yoga will you be doing? Your preference of yoga mat is likely to be different if you are doing Power Yoga or Hot Yoga, both of which need thinner mats to aid balance poses, compared with Restorative Yoga, which may require a thicker mat for comfort whilst practising more seated poses.

How thick should the yoga mat be? Again, think about the type of yoga you are practising, your height, weight and maybe joint issues - kneeling with a knee issue maybe require a thicker mat to provide cushioning during asana's. However, if you're practising Power Yoga or Hot Yoga, a thinner anti-grip mat will support your poses better.
If possible, I would always recommend trying a yoga mat before buying. They are an investment so worth taking the time to get the right mat for your practice. You might also find using yoga blocks or yoga balls helpful for your practice. You can learn more about the benefits of using yoga blocks here and some yoga ball exercises to try here. If you're a runner, make sure to check out our yoga guide for runners.
Hopefully, this article has reassured you that yoga is for everyone and what you will expect from an initial class. For more information or if you would like to chat please contact me @jenfitnessuk - I would be delighted to guide you to the right class for you. Start today, you will not be disappointed. 
If Jen has inspired you to start your yoga journey, then check out our PureGym yoga classes. We also offer more advice on our fitness blog, such as this guide to yoga for core strength. And remember it doesn't have to be yoga or the gym, it can be both. You can even use your workout to boost your yoga performance.