Sweet Potato Breakfast Hash Recipe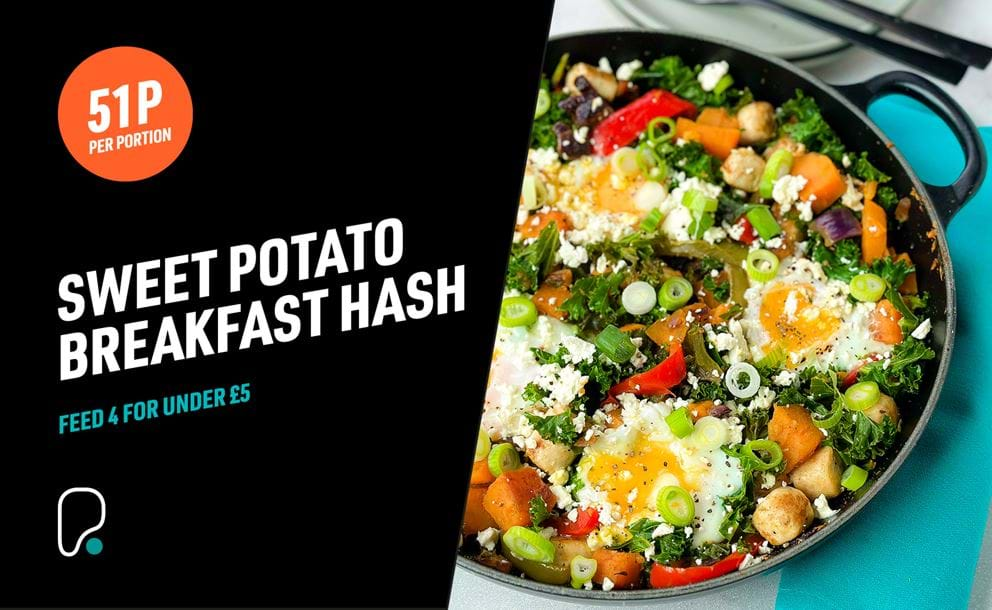 Start your day in the best way possible with this one pot sweet potato breakfast hash. It's quick, easy, and has minimal washing up – plus it tastes amazing and is the perfect way to pack in those veggies to leave you feeling nourished for the day ahead!
We've combined succulent chicken sausages with fluffy sweet potato, eggs, peppers, and onions to create a colourful dish that's full of flavour, not to mention high in protein and fibre. Using chicken sausages makes this dish lower in saturated fat and sodium, for a higher protein, lower calorie dish, while swapping potatoes for sweet potatoes gives an added mix of vitamins plus a slightly sweet flavour that works really well.

Taking just 5 minutes to prep and 20 minutes to cook, this recipe is ideal as an early morning breakfast for all the family, a laid-back brunch for your housemates, or even as a post-workout lunch or dinner! It won't break the bank either, costing just a total of £2.06 for four servings, that's just 51p to feed each hungry mouth!

Our sweet potato breakfast hash isn't just delicious, it's also low in calories and high in protein. Each serving has just 277 calories and 21g of protein, so it's a great option for those looking to build muscle on a calorie deficit. Need to up the calories? Double up on sweet potato.
Serves: 4
Prep time: 5 minutes
Cook time: 20 minutes
Ingredients:
6 chicken sausages, sliced into chunks
300g sweet potato, peeled and diced
Low calorie oil spray
½ red onion, diced
1 garlic clove, crushed
1 red pepper, sliced
1 green pepper, sliced
½ tsp paprika
¼ tsp thyme
50g kale
4 eggs
80g feta
1 spring onion, sliced
Freshly ground black pepper
Method

Heat a frying pan with some low-calorie oil spray.
Add the sausage chunks to the pan and fry on a high heat to get the edges nice and crispy.
Next, lower the heat and allow the sausages to cook for 4-5 minutes before removing them from the pan.
Add some more low-calorie oil spray to the pan and sauté the onion and garlic until soft.
Now, add the red pepper and green pepper and cook for 2 minutes, before sprinkling over the spices.
Add the diced sweet potato to the pan and mix everything together well.
Cook for 10-12 minutes stirring regularly, adding a dash of water if needed and ensuring to cover the pan with a lid halfway through to further soften the potatoes.
Next, add the chicken sausages back to the pan with the kale and put the lid back on and cook for 2-3 minutes until the kale has wilted.
Now create 4 wells in the hash and crack the eggs into them.
Cover the pan with a lid or tin foil so that the eggs cook all the way through, cooking them to your liking.
Sprinkle over feta before removing the pan from the heat and topping the hash with spring onion and freshly ground black pepper.