Mexican Turkey Stuffed Peppers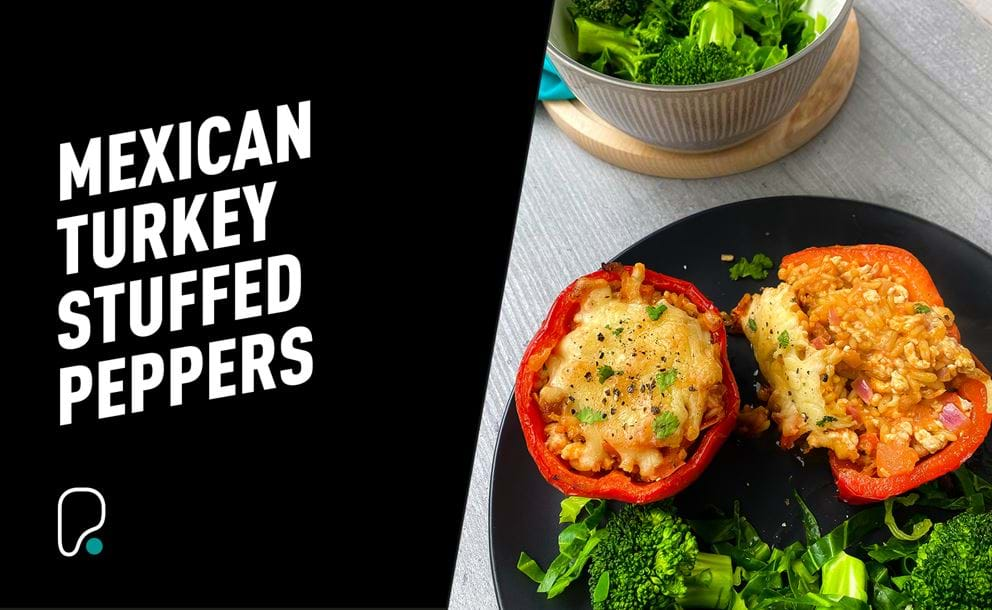 Wondering what to add to your meal plan this week? This Mexican Turkey Stuffed Peppers recipe has you covered!
It's got all your favourite Mexican flavours in a pepper boat of veggie goodness for only 468 kcals and with a whopping 35g protein per portion. Perfect for a post workout meal to help with recovery and fuel for your next workout.
Cut into our Mexican Turkey Stuffed Peppers and you'll experience the sweet tang of the peppers combined with the juicy turkey mince, Mexican spiced rice, and melted cheese. Full of flavour and still packed full of goodness.

This recipe makes one portion, but it's great for work lunches or quick dinners on the go – so why not scale up the recipe to make a batch for later in the week. You can even freeze our stuffed peppers for added convenience!
The best bit? You can also adapt our Mexican Turkey Stuffed Peppers to be vegetarian if you like by switching out the turkey mince for tofu, lentils, or a meat alternative. Plus, you can throw any left-over veg in from your fridge into the mixture, so they are great to help reduce food waste and increase your veggie intake.
Ingredients:
80g turkey mince
125g cooked Mexican rice
30g light cheddar cheese, grated
½ tbsp tomato paste
½ red onion, diced
1 tomato, diced
1 garlic clove, crushed
½ lime, juiced
2 large red peppers
Method:
Preheat oven to 200c.
Cut the tops off the peppers and deseed them.
Place the peppers onto a baking tray and cover with a few sprays of low-calorie oil spray.
Next, heat a frying pan with a few sprays of low-calorie oil spray, add the turkey mince and fry for 4 – 5 minutes.
Add the diced red onion and crushed garlic, frying for a further 2 minutes.
Add the tomato paste, diced tomato, lime juice and rice with a splash of water and simmer for 3 minutes mixing all the ingredients together well.
Stuff the peppers with the turkey mince mixture and top with the grated cheese.
Place into the oven for 30 minutes, the peppers should soften and be cooked through.
We recommend serving with streamed green veg of your choice or pairing with a mixed salad.
We know you all love the convenience of our one pan meals… so, if our one pan chicken and veggie bake is up there on your list of favourites, you'll love how simple and easy our Mexican stuffed peppers are too.
Click here for more easy, budget-friendly recipes that are healthy and wholesome without compromising flavour.