One-Pan Chicken and Veggie Bake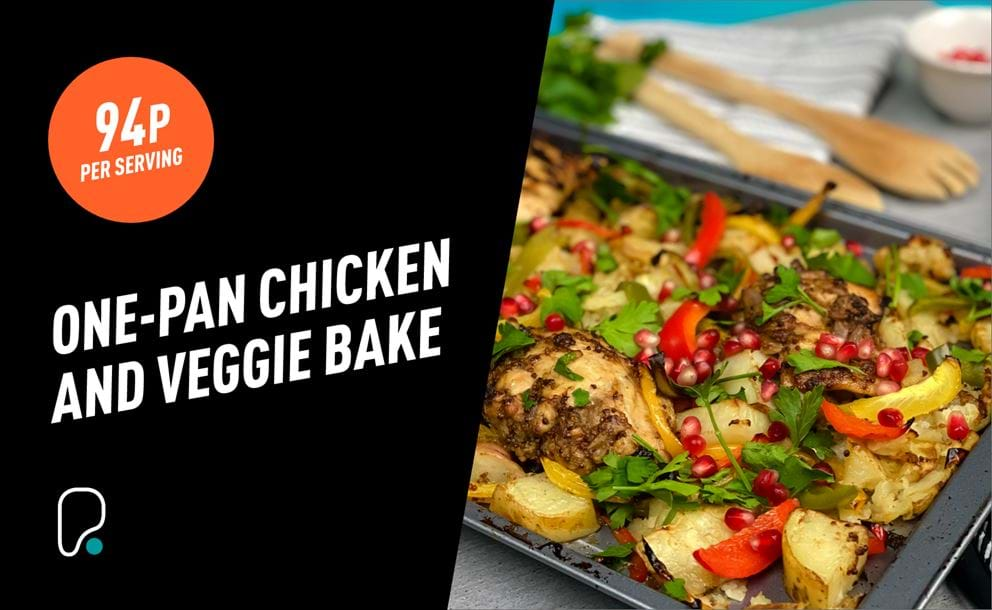 Save time and money with this quick and easy one pan meal prep. Say goodbye to boring plain chicken and veg and hello to healthy food packed with flavour. Our One-Pan Chicken and Veggie Bake tastes incredible and is a perfect option for mid-week meal prep. Each meal has 340 kcals, with 29g of protein and only costs 94p per serving.
Ingredients
(Serves 4)
4 Chicken Thighs, skinless and boneless
1 green pepper, sliced

1 red pepper, sliced
1 yellow pepper, sliced
2 large baking potatoes, cubed
4 shallots, diced
2 tbsp olive oil
3 tbsp balsamic vinegar
2 cloves garlic, crushed
2 tbsp wholegrain mustard
1 tbsp pomegranate seeds
Pepper (to taste)
Fresh parsley to garnish (optional)
Method:
Start by preheating your oven to 200c.
Then make your balsamic marinade my combining shallots, garlic, balsamic vinegar, olive oil and mustard to a large mixing bowl and season with pepper to taste.
Next add your chicken thighs to the bowl and coat evenly with the balsamic marinade. You can do this an hour before cooking or alternatively prep the day before and leave to marinade overnight.
Add your peppers and potatoes to the baking tray and then rest your chicken thighs on top of them, use any leftover marinade to drizzle on the vegetables and season to taste.
Place the tray into the pre-heated oven to roast for 20 minutes.
After 20 minutes, crush the potatoes down using the back of a fork and pop back into the oven for a further 15 minutes until the chicken is cooked through and the vegetables are golden.
Top with pomegranate seeds and then serve with your favourite green veg. Alternatively pack straight into meal prep containers ready to enjoy!
If you're looking for more healthy meal prep ideas, check out this 15 minute salmon meal prep.