Strength Training: What is it and why should you do it?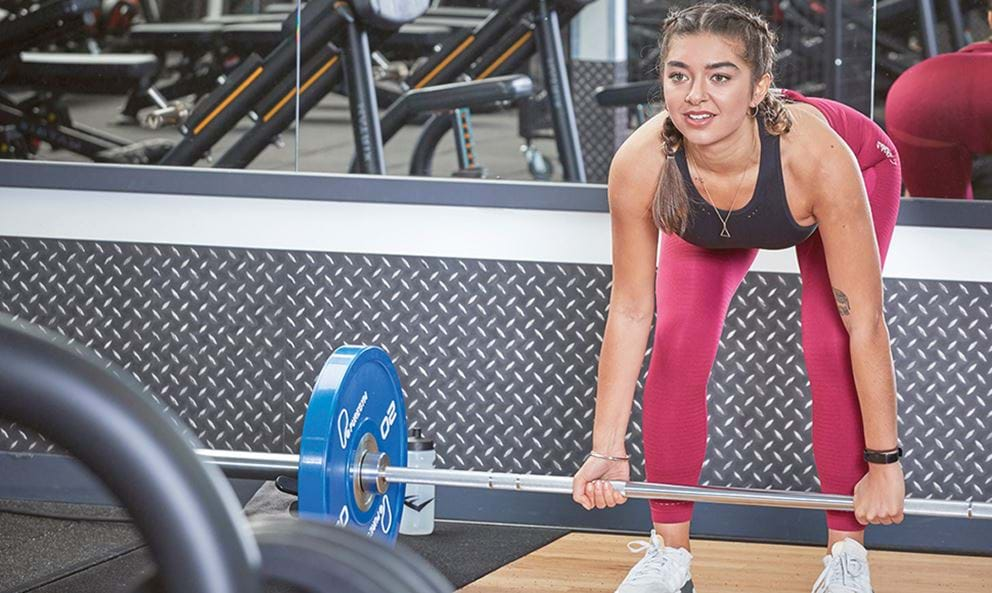 What Are Strength Exercises | Strength Training FAQs | How To Start Strength Training | Strength Training Workout Programme | Tips & Advice
Page last updated: 3rd July 2023
To keep healthy and fit, the NHS recommends completing muscle-strengthening exercises at least twice a week and, thanks to a wealth of fantastic benefits, more and more people are focusing on strength training to tone up and boost their physical (and mental) wellbeing. 
But what is strength training and how can you integrate it into your weekly routines? Read on to learn the answers to these questions and more. 
What Are Strength Training Exercises?
Strength training is the process of lifting heavy weights at low reps, with the specific aim of getting stronger and building denser muscles. Strength training is a type of resistance training but with the specific goal of boosting your strength and ability to (for example) lift heavier weights.
Salma Rouf, Personal Trainer at PureGym Leeds City Centre North describes how strength training works: "it requires a much larger stimuli than muscle growth or endurance-based lifting. This puts more stress on your muscles, and causes tiny micro-tears within them. These micro-tears are necessary for your muscles to get stronger but require adequate rest (and nutrition) for your body to repair and rebuild your muscle fibres."
Strength Training FAQs

How To Start Strength Training
If you're not sure where to start with strength training, then a good start is familiarising yourself with the weights section of your gym. You can start with weights machines, as these provide more support as you learn the right movements, and work your way up to free weights like dumbbells and barbells. Check out our weight training for beginners page for a step-by-step guide, or book in for one of our strength classes to improve strength whilst also fitting in a cardio workout to keep you sweating.
A Strength Training Programme Workout Plan For You To Try:
Ready to start strength training? Salma has provided the following workout plan as an example of strength training exercises you could try: 

Tips And Advice For Strength Training

Preparation: it's really important to warm up before strength training and to cool down afterwards. You're putting your muscles under a lot of strain so preparing them in the right way will help to prevent injury. Your warm up should be tailored to you and the workout you're doing but as a general guideline, you can try some dynamic stretches  before lifting to warm up, and include some stretches to cool down afterwards.

Intensity: Build up your weights gradually – if you start on a really heavy weight straight away, you could very easily strain yourself and cause injury, which would prevent you from carrying on your training. Make sure to include some warm up sets before attempting any PRs.

Consistency: how often you train can really be up to you – for a basic strength program, around three to four days a week should be plenty.

Recovery: it's really important to give your muscles time to rebuild, so it's recommended that you don't focus on the same muscle groups two days in a row and give ample time for your body to rest in between workouts. Your recovery time will depend on your genetic and also several other lifestyle factors such as sleep and diet, so it's important to make sure to you take these into your account when training.

Form: although getting strong does in some senses require lifting heavy, it is important to master the form first. Before adding lots of weight, make sure you have nailed down the movement pattern. This will help to make sure you are recruiting the right muscles, and are lifting safely and controlled - in order to benefit properly from the exercise.

Breathing technique: When lifting heavy, for many, it comes as a natural instinct to hold your breathe momentarily. If you watch professional lifters, you'll see that just before they perform a heavy lift, they breathe deeply into their belly and hold their breath throughout a repetition, exhaling when they've completed a rep. This is to create intra-abdominal pressure to help support the spine and keep the body stable when performing heavy lifts. Try to focus on proper breathing technique and practice with lighter weights beforehand.
Getting started couldn't be easier than with a PureGym membership - we offer a range of locations all across the UK with top-of-the-range fitness equipment to help you on your muscle-gaining journey. For advice on how to approach your strength training, it could be worth some one-to-one sessions with a personal trainer – they'll be able to guide you on the best form and weights to use to see the best results.
[1] Strength training for athletes: does it really help sports performance?
[2] Association of Efficacy of Resistance Exercise Training With Depressive Symptoms
[3] Associations of Muscle Mass and Strength with All-Cause Mortality among US Older Adults
[4] Does Strength-Promoting Exercise Confer Unique Health Benefits?