Turkey and Vegetable Noodle Stir Fry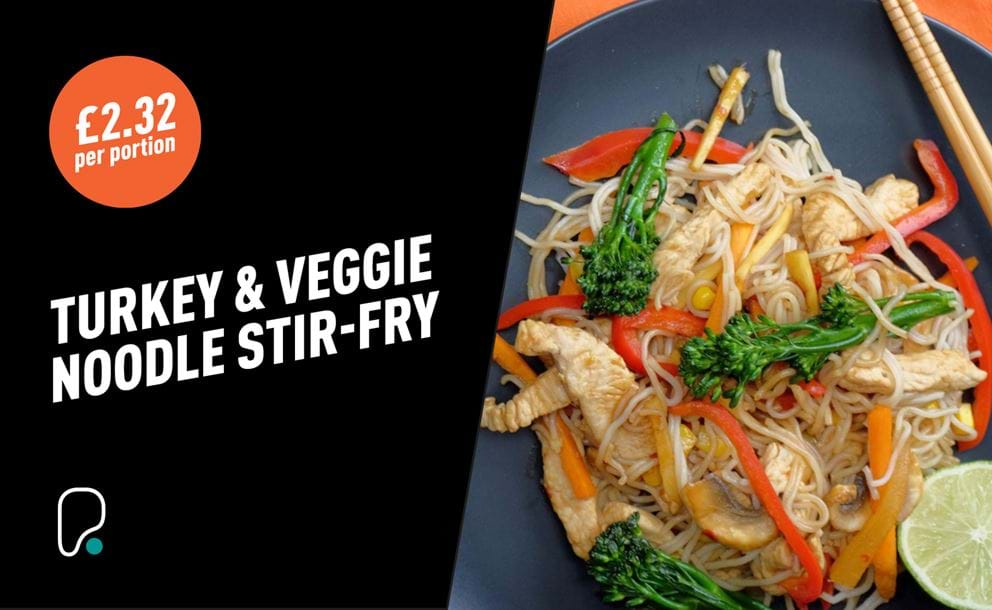 Save £££s making a yummy, quick and healthy stir fry at home with this recipe. Each serving costs only £2.32 and is packed with a good balance of lots of colourful veg, protein and carbs.
Turkey and Vegetable Stir Fry
Serves 1
Ingredients:
125g Turkey Breast Steak
150g medium straight to wok noodles
50g tender stem broccoli
50g carrot
30g mushrooms
50g red pepper
30g sweetcorn
2 tbsp dark soy sauce
1 tsp sesame oil
1 tbsp reduced sugar sweet chilli sauce
1-inch ginger cut into sticks
1 tsp crushed garlic paste
20 sprays low calorie spray
Coriander to garnish
Method:
Spray frying pan with low calorie oil spray.
Slice the turkey breast into thin slices and stir-fry until cooked through.
Once cooked, take the turkey off the heat and put to one side.
In a wok or large frying pan heat a little oil and add the ginger and garlic and cook for 2 minutes.
Add the vegetables, dark soy sauce, sesame oil and sweet chilli dipping sauce and cook for a further 5 minutes.
Add the wok ready noodles and stir fry for a further 3 minutes.
Finish by adding the cooked turkey breast into the pan and heat through for 1 minute.
Top with coriander and enjoy.
Nutritional information
Per serving:
541 calories
55.8g protein
9.1g fat (1.9g of which saturates)
53.9g carbs
13.7g sugars
9.1g fibre
4.62 salt
For more quick and easy recipe ideas like this check out our Nutrition section