Falafel Veggie Cous Cous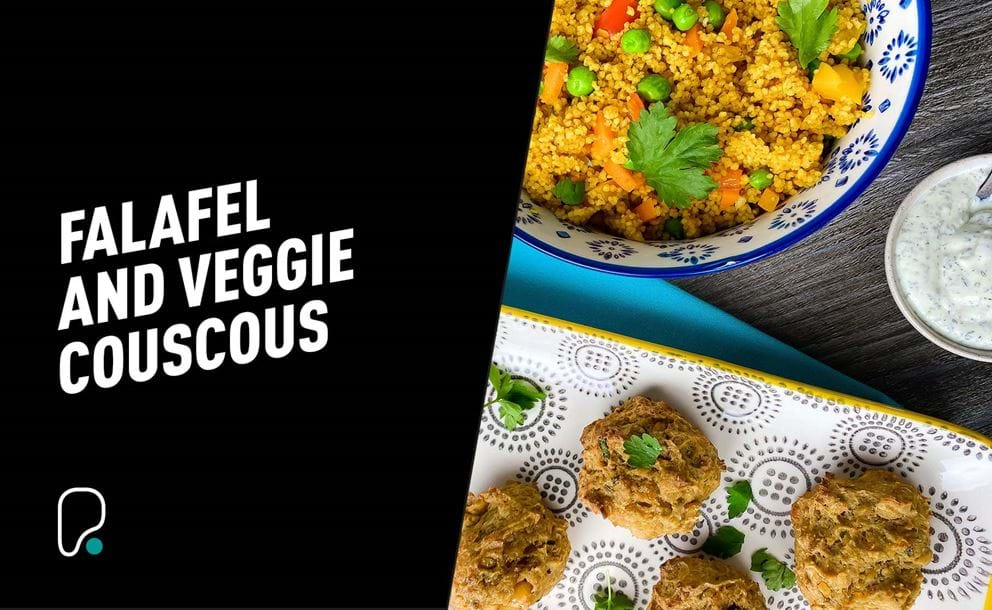 If you're a fan of falafel, you need to try our spiced falafel and vegetable couscous recipe! Making the falafel from scratch is really easy and much tastier than supermarket versions. This makes a perfect healthy vegetarian lunch for those looking to cut down on their meat, and you can swap the yoghurt for a dairy free alternative to make this vegan. The recipe keeps well in the fridge, making it a great meal prep option for when you're on-the-go.

If you've never tried falafel before, now is the time! Falafel is a popular middle eastern food made with chickpeas and spices and formed into small balls or patties. They taste as good as they look and are packed with plant protein and fibre, which will leave you feeling full and satisfied.

Ingredients (serves 2)
Falafel:
200g can of chickpeas, drained and rinsed
2 garlic cloves, crushed
½ onion, diced
1 tbsp fresh parsley, chopped
½ tsp cumin
¼ tsp ground coriander
½ tsp chilli flakes
¼ tsp salt
½ tsp ground black pepper
½ tbsp flour
Couscous:
½ yellow pepper, diced
½ red pepper, diced
½ carrot, peeled and diced
1 garlic clove, crushed
¼ tsp paprika
¼ tsp turmeric
¼ tsp cumin
¼ tsp cayenne pepper
50g frozen peas
80g couscous
175ml vegetable stock
Fresh coriander
Fresh parsley
Low calorie oil spray
Mint Yoghurt Dip:
2 tbsp low fat natural yoghurt
2 tsp mint sauce
Method
Start by preheating your oven to 180 degrees.
Next up, make the mint yoghurt dip. Mix the dip ingredients together in a bowl and then pop into the fridge to chill while you prepare the rest of the meal.
Now for the falafels. Add all the falafel ingredients to a food processor (or use a fork) and pulse until the ingredients are combined. Try not to over mix as you don't want the mixture to turn into a paste.
Place a small amount of the mixture into the palm of your hands and roll into a ball. Repeat until all the mixture is used – try to keep the falafels a similar size so that they cook evenly.
Add the falafels to a lined baking tray and spray with low calorie oil spray and then pop into the oven for 20 – 25 minutes until golden brown.
While the falafels cook, prepare the couscous. Place the dry couscous into a bowl and cover with half of the hot vegetable stock. Cover and leave the couscous to absorb all the liquid for approximately 5 minutes.
Meanwhile, heat a pan with a few sprays of low-calorie oil spray, then add carrots, peppers and garlic and sauté until they start to soften.
Then add paprika, turmeric, cayenne pepper and cumin and stir until the spices become fragrant.
Fluff the couscous with a fork and add to the pan with the remaining stock and frozen peas. Keep stirring for 2 minutes while on a medium heat.
Leave the couscous to stand off the heat for 5 minutes, then serve with falafel and mint yoghurt dip.
Looking for more vegetarian recipes? Why not try our delicious veggie bean burgers or give our tasty shakshuka recipe a go!