Coconut Curry Noodle Meal Prep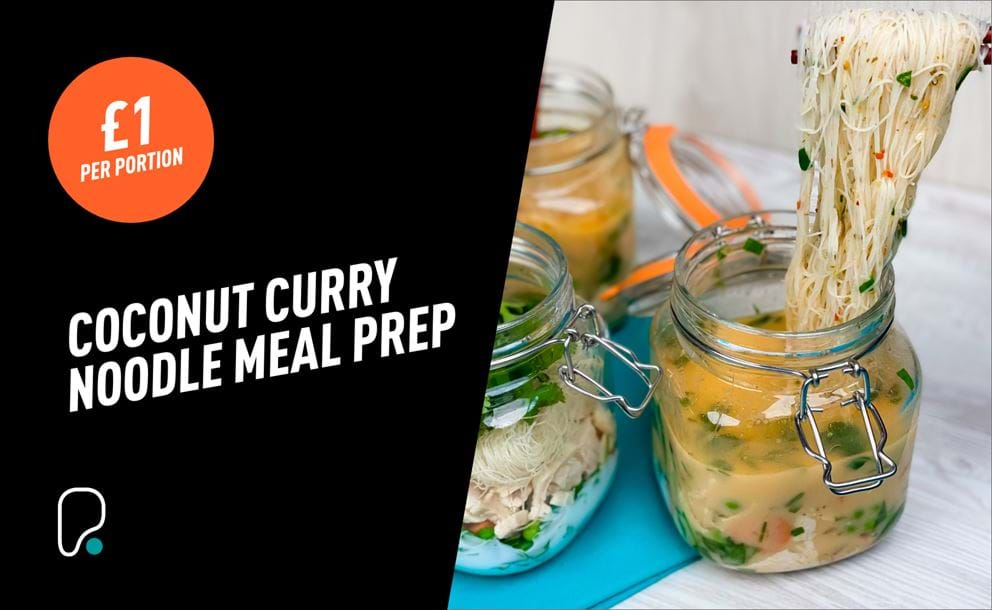 For a healthy take on instant noodles that're packed with nourishing ingredients and flavour, try this incredible coconut curry noodle meal prep! It's perfect for a healthy but delicious work lunch or quick dinner when you can't be bothered to cook after a long day. It's super easy to make and can be stored in the fridge for 3 to 4 days, so ideal for bulk meal prepping.
The best bit? The ingredient combos are endless. You could switch out the chicken for some grilled tofu, or you could add whatever veg you have left over in your fridge. It's a great way to reduce food waste and save you some pennies along the way.
Ingredients:
Serves 1
70g dry vermicelli noodles
2 tsp mild curry paste
3 tsp coconut milk
20g frozen peas
20g frozen carrots
20g spinach, thinly sliced
70g cooked chicken, diced into small chunks
Handful of fresh coriander
Method:
First you will need a glass jar with a secure lid, the bigger the better to fit your ingredients inside easily.
Spread the curry paste evenly across the bottom of the jar, and then top with your coconut milk.
Then add your veggies and meat on top of your sauce layers. Remember, this is a great way to use up your leftovers so feel free to adjust the recipe to add whatever protein source or veg you have left in your fridge.
Finish by topping the ingredients with your dry noodles and then seal.
If you're making this as meal prep, store in the fridge for 3 to 4 days.
When you're ready to eat, simply top with boiling water until you just cover the noodles. Don't put too much water in to start with you can always add more in later.
Place the lid back on and leave the noodles to cook for 2 - 4 minutes. This can vary, so make sure to check that your noodles are cooked through before serving.
Give everything a good stir before eating to release the curry flavours and add more water if needed.
Eat straight away and enjoy!