Chicken, Chickpea and Kale Miso Salad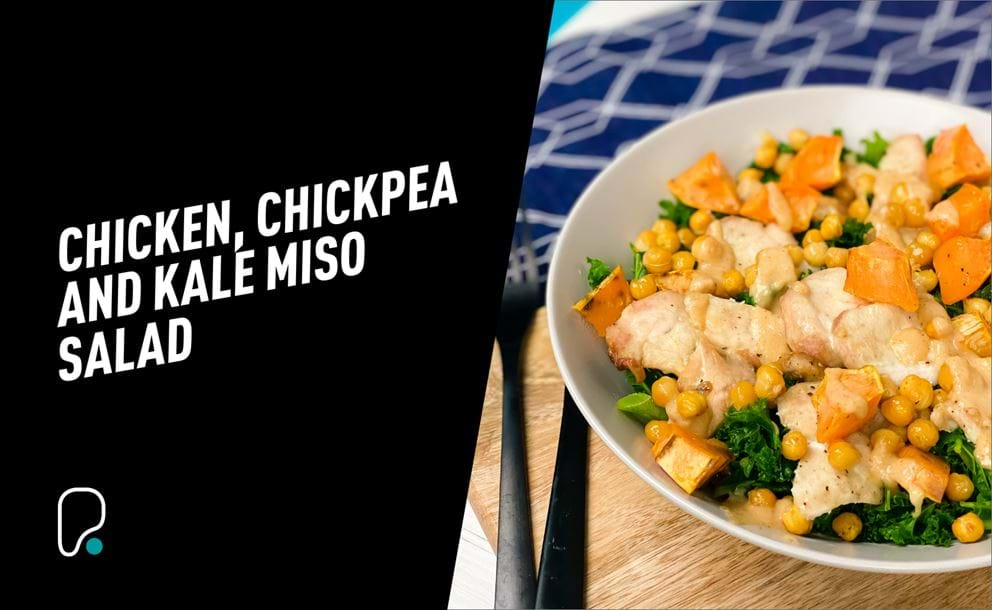 If you're craving something light but incredibly tasty and nourishing for dinner tonight, try this Chicken, Chickpea and Kale Miso Salad.
Salads don't have to be boring and were here to show you how. Layer your vibrant kale goodness with chicken, roasted sweet potato, crispy spiced chickpeas and a delicious creamy miso tahini dressing for the ultimate salad takeover.
At only 309 kcals and packed with 19g protein and only 13g fat this light but delicious meal is the perfect lunchtime luxury. Crammed with flavour but without the fuss – this recipe does take a little prep time but can be prepared in advance and in bulk making staying on track at lunchtimes easy.
Ingredients
Serves 2
75g chicken breast, sliced
100g kale
100g chickpeas, drained and dried
100g sweet potato, peeled and cubed
1 tsp olive oil
Miso Dressing
10ml tahini
1 tsp minced garlic
1 tsp minced ginger
1 tsp miso paste
1 tsp sesame oil
1 tsp rice wine vinegar
¼ tsp maple syrup
1 tsp water
Salt to taste
Method
Preheat your oven to 200c.
Start by making your miso dressing, mix together all of the ingredients in a bowl and place covered in the fridge to chill until your salad is ready.
Place chickpeas evenly onto a baking tray and add the sweet potato chunks and sliced chicken breast alongside them.
Cover with a drizzle of olive oil and place into the oven for 20-25 minutes until cooked through.
When the chicken is nearly cooked, place the kale into a pan of boiling water for 2-3 minutes. This should be cooked but still vibrant green and with a slight crunch.
Place all of your salad items into a bowl and top with your miso dressing ready to enjoy!