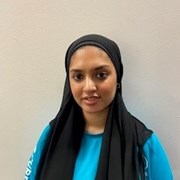 Zahra Ahmed
Hi, I'm Zahra , A fitness Coach and Personal trainer here at West Brom.
My goal is to help you feel more confident within yourself, mentally and physically. Being in an unhappy place with my own body, I know it can leave you to feel insecure and mentally drained.
Being a female and having a huge number of female clients in the past, I understand the main concern for female is losing the baby fat post pregnancy or toning up in general & I want females to know IT IS POSSIBLE, without saying NO to the food you love.
I specialise in Fat loss and Muscle gain , through a combination of training methods , including strength training whilst also working on stamina and shape. Alongside methods from Pilates and stretches to allow you to achieve your fitness goals.
I also understand, sometimes it can be overwhelming learning about weights & the use of machines in the gym , in which I will educate and guide you.
I AM HERE TO HELP YOU!
Specialist Areas
Bespoke plan
Body confidence
Body fat reduction
Muscle tone and development
Nutritional guidance
Weight loss
Qualifications
Level 2- Gym instructing
Level 3 – Personal Training