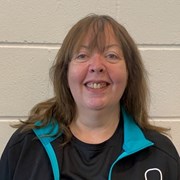 Yvonne Walker
Hi, I'm Yvonne!
I specialise in weight management through my Healthy Habits plan.
In 2016, I was very overweight. I didn't like what I saw in the mirror, and this affected my self-confidence and mental health.
I turned my life around by improving my fitness and learning how to make healthy nutrition choices.
This is why, five years later, I decided to become a Personal Trainer to help other people just like me to overcome the struggle related to weight loss.
Since then, I have helped people to lose fat and get fitter with the Healthy Habits plan and they have achieved some amazing results!
Come and find me on the gym floor or drop me a message – all of my contact details are above.
I'm here you help you achieve your goals!
For more information about the Healthy Habits plan go to www.yptfitness.co.uk
Specialist Areas
Bespoke plan
Body confidence
Body fat reduction
Muscle tone and development
Nutritional guidance
Strength and conditioning
Weight loss
Qualifications
Level 3 Personal Training
UKA Accredited Athletics Coach
Level 4 Nutrition for Weight Management and Athletic Performance (working towards)
Level 4 Strength and Conditioning (working towards)