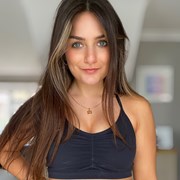 Yasemin Gulumser
Mindset. Fitness. Maintain 
Personal trainer and fitness coach

Hi I'm Yasemin and I'm passionate about helping people live their best, happiest and healthiest lives. Coming from a professional dancer background I have learnt throughout life that whatever happens physically and emotionally, exercise and living a healthy balanced lifestyle can contribute to such a better wellbeing. I believe that better mental health, positive self talk, appreciate for your body and mind and confidence can all be managed from living a healthy happy lifestyle and also the added benefits that come along physically, such a fat loss, muscle gain and definition and becoming stronger, all depending on your goals and your journey.

With the right outlook and mindset, anyone can find balance in a lifestyle where workouts are tough but always enjoyable and better habits and fitness are achieved and maintained.

I create personal packages for my clients, on their goals and needs and we work through them together.
Specialist Areas
Bespoke plan
Body confidence
Body fat reduction
Nutritional guidance
Strength and conditioning
Weight loss