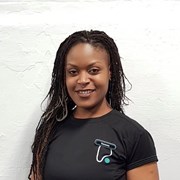 Veowna Charles
Innovative training strategies for individuals who are ready to work hard and stay consistent to achieve their goals.
Training programmes available for beginners to advanced athletes.
I'm constantly learning new and effective ways to enhance my coaching capabilities for my clients. I offer a professional service with a friendly attitude, empathy and patience.
I've been training myself for over four years and I've been through the process of losing weight and gaining confidence through Powerlifting. I myself have suffered with depression, binge eating and lack of motivation. I enjoy using my knowledge and experience to provide effective and exciting training strategies that will innovate your idea of fitness.
You will learn strategies for how to maintain a healthy lifestyle in and out of the gym and we'll work to create a flexible training programme to enhance your physical performance.
Holistic approach to building your training programme which will include all the components of fitness including;
strength, power, stamina, cardiovascular ability, flexibility, coordination, agility and more.
My training sessions offer variety so you'll never get bored and keep having fun. It's easier to stay motivated if you enjoy what you're doing!
Specialist Areas
Body confidence
Body fat reduction
Strength and conditioning
Weight loss
Qualifications
Level 2 Fitness Coaching
REPS L3 Personal Trainer
CPD Indoor Cycling
CPD Advanced Fitness Test
Nutritional Advisor
Strength and Conditioning
Muscle Tone and Development
Functional Training
Body Fat Reduction
Body Confidence