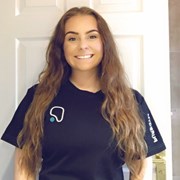 Tamsyn Dudgeon
'Train with Tam'
Hi, my name is Tamsyn Dudgeon, I'm 22 and I'm a Personal Trainer at PureGym Kirkcaldy.
I, like many of you, spent a lot of my time wishing I looked better, or that I was fitter, stronger or felt better in general- but I never did anything about it. Then I came across the phrase 'don't wish for it, work for it' and I made a conscious decision to get up and start working for my results instead of sitting around waiting for it to happen. Now I'm fitter, stronger, and most importantly, HAPPIER.
I have been working to become a Personal Trainer for the past two years in the hope that one day I'd be able to help others work to get the results they want instead of wishing things would change. All it takes is a little knowledge, a bit of help and some commitment and determination and I am here to help with all of it!
The time is now, and the work is real but SO ARE THE RESULTS!
I'm especially passionate about improving your mental state as well as your physical one. I feel like the experience you have of fitness isn't just based on the exercise but based on the people around you so I am here to be whatever kind of support you need, whether that's someone to give you a pat on the back when you're struggling, or someone to push you further than you ever knew you could reach!
If you want to NOT ONLY work to reach your goals instead of wishing you could, but have fun and have some of the best laughs in the meantime, get in touch now to BOOK A FREE consultation.
Specialist Areas
Body confidence
Muscle tone and development
Strength and conditioning
Weight loss
Qualifications
HNC & HND in Fitness, Health and Exercise
Level 2 Gym Instructor
SCQF Level 7 Personal Trainer
Nutritional Advisor
ETM Instructor
Circuit Instructor