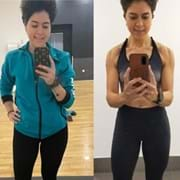 Rebeca Garcia Pantoja
I can imagine that the first thing you think about when you start training is if you are really capable of achieving your goals or even if you have been training like a beast for a while and you don't see the desired results, your mind starts to create insecurities that only take away your motivation and desire to keep trying.
Let me tell you something...I'VE BEEN THROUGH THE SAME AS YOU.
I know what it's like to look in the mirror and not be comfortable with your body, to kill myself training to gain muscle mass and stop eating to lose weight and even go on diets that only took away my energy to train... I was not happy.
But... What if I told you that this could end?
I don't have a secret formula that will make you lose weight or gain muscle mass from day 1. I'm going to be very honest with you, you have to be patient with yourself, enjoy the process and take it one step at a time.
And THAT'S WHY I AM HERE, I will be with you until you achieve your goals, learn and enjoy this new of lifestyle and above all feel proud of yourself at all times no matter what stage you are at.
Specialist Areas
Body confidence
Body fat reduction
Muscle tone and development
Nutritional guidance
Persistent motivation
Strength and conditioning
Weight loss
Qualifications
Level 2 Fitness instructor
Level 3 Personal Trainer