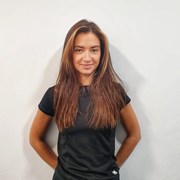 Ophelie Clouard
Over the years of training in the gym, my passion for learning about fitness, training and nutrition has brought me all the way to become a Personal Trainer. 
I offer professional and fun session tailored to your goals to achieve the body of your dreams with a positive mindset.
I will not be asking you to do food-restrictive diets, which only lead to regain weight and is definitely not sustainable, we want long term results.
I lost 10 kilos with training and healthy nutrition and I know how to avoid the yo-yo and maintain a good mindset around food and workout.
My coaching is different - structured and backed by the evidence-based science, that (along with perfecting your exercise technique) will get you continuous, long-term results.
I will teach and support you how to treat your body correctly and create healthy habits, we are creating a sustainable relationship to make sure you get there. 
Whether you are a beginner, or you have spent a couple of years in the gym but can´t see improvements anymore, I´ll support you to achieve your goal.
I will help you to build solid muscle mass, lose fat or tone, or grow the best glutes. You will also greatly improve your health, your mindset, strength and confidence.
Invest in yourself body and mind are connected and I will show you how you can get stronger leaner and love your body.
Please take a look at my Instagram if you like I share positive mindset, healthy habits and workouts. @ophelyfithealth.
I can´t wait to work with you! Reach out for a consultation.
Specialist Areas
Bespoke plan
Body confidence
Body fat reduction
Functional specialist
Muscle tone and development
Nutritional guidance
Persistent motivation
Strength and conditioning
Weight loss
Qualifications
Level 3 personal trainer
Performance nutrition coach
Eating psychology
Strength and conditioning
Weight loss specialist
Muscle tone and Development