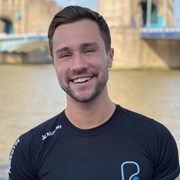 Contact
Free first session offered
Email me
Niko Kaim
Hey, I'm Niko and I am turning goal setting upside down. I believe we go after goals because we want to feel something and we want to feel it now. I will push you to reach your physical potential, coach you to build healthy habits, and streamline your routine systems so you can start living the life you want to be living today.
Want to feel alive, authentic, present, liberated, intentional, invincible, open-hearted, self-loving, grateful, expansive, sexy AF? It's up to you. It's always been up to you.
If you're looking for a holistic approach to fitness and well-being, get in touch. Together we will kick-start your mental and physical health journey.
All of my clients receive a full weekly fitness programme tailored to their exact needs, nutritional advice, as well as my brand new, exclusive podcast series on how to build and break habits. 
First step is a free session. Call me. 
IG: @niko_kaim
Specialist Areas
Bespoke plan
Muscle tone and development
Persistent motivation
Qualifications
Certified Level 2 – Gym Instructor
Certified Level 3 – Personal Trainer
Qualified first aider
Bachelors of Fine Arts in Musical Theatre