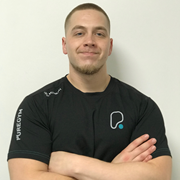 Liam Madden
Elite Personal Trainer. As a fitness professional, I am committed to helping people to achieve their goals and to be the best that they can be.
I am equipped with a range of skills to assist people into becoming fitter and healthier, that can help to improve their lives in all other areas. Whether you are trying to build muscle and burn fat, lose weight and tone up for special occasions like weddings and holidays. Prepare for a sports event like a marathon, football match, charity boxing event bikini or bodybuilding competition or learn the techniques of Olympic weight lifting I can help you to become the best you can be. I am also an advanced boxing and kickboxing coach, so why not give that a try and learn some self-defence whilst shedding lots of calories and having lots of fun.
We are all unique and require specific attention in different areas, it is in my best interest to asses and establish what is beneficial and safe for my clients. Whatever your goals may be, I can help and all I require is your willingness and commitment.
I offer a friendly and professional service to motivate and encourage people in a fun and enjoyable environment so that their goals are achieved and surpassed. With the right training programmes, nutritional guidance and meal plans all personally made and provided for you, we can achieve great results.
Get in contact today, begin the journey to becoming the best you can be, I look forward to meeting you.
Specialist Areas
Body fat reduction
Functional specialist
Injury prevention and rehabilitation
Muscle tone and development
Nutritional guidance
Persistent motivation
Special populations
Sport specific training
Strength and conditioning
Weight loss
Boxing
Qualifications
REPS Level 3 Diploma In Personal Training
Advanced Fitness Testing
Boxing Pad Work Instructor
Level 1 Nutrition
Bootcamp Instructor
Spin Instructor