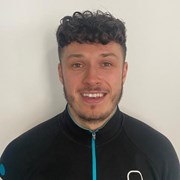 Lee McNamara
Hi my name is Lee
I decided to take my personal training course at the
beginning of 2021 after spending years of my life in
the gym and making lots of mistakes. One of the
main reasons I aspired to be a fitness professional,
was because I know how it feels to be spinning your
wheels for years without seeing much progress. I
want to make sure that you don't make the same
mistakes I did.
From overtraining to undereating and everything in
between, these are all things I experienced myself
when I was struggling with atypical bulimia. This is
something I like to bring awareness to because
eating disorders aren't something that people talk
about often and nutrition plays a massive part in you
achieving your goals. Not to mention, the mental
side of fitness and the importance of that.
With all of this in mind, if you're looking for a
personal trainer to meet your individual needs and
help you reach your goals, then feel free to get in
touch with me and we can start our journey together!
Specialist Areas
Bespoke plan
Body confidence
Body fat reduction
Muscle tone and development
Nutritional guidance
Persistent motivation
Strength and conditioning
Weight loss
Qualifications
Level 3 in Personal Training
Level 2 in Gym Instructing