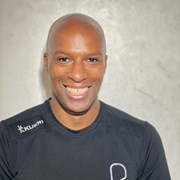 Kenneth Attwell
Expertise Supporting Clients With Lower Back Pain
Lower back pain is very common. Almost 2 in every 3 people have experienced lower back pain at some point. In most cases it is not normally serious and it can be easier, quicker and more cost effective to see a personal trainer specialising in lower back pain rather than consulting a physiotherapist, osteopath or chiropractor.
As a lower back pain specialist, I can do a full lower back assessment and design an exercise programme specifically for you, which you can do yourself or under my guidance, and in most cases the benefits are felt in as little as a few weeks.
The additional benefit of working with myself is that your overall strength, energy, and wellbeing will increase making it less likely that you will experience back pain again.
Instagram #resultsdoctor 
Specialist Areas
Bespoke plan
Body confidence
Body fat reduction
Muscle tone and development
Nutritional guidance
Persistent motivation
Weight loss
Boxing
Qualifications
Level 3 YMCA Personal Trainer
Suspension Training
High Intensity Training (HITT)
Pad Work
Certified Goal Mapping Practitioner
Active IQ -Level 4 in Low Back Pain Management
Active IQ -Level 3 Supporting Clients With Long-Term Conditions