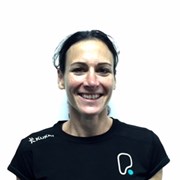 Contact
Log in to view contact details
Julie Poole
So you've joined the gym - good move!
What do you do next? 
Perhaps you just need help to get started, a programme, some motivation or reassurance that you're training effectively towards your goals.
Maybe you're looking for someone to take responsibility for your training, to help you progress and work alongside you towards your goals.
I'm a Personal Trainer and running coach with a long history of competitive sports. Contact me for a free fitness consultation ready for when PureGym Portishead opens! I look forward to meeting you soon.
Recent Testimonials 
"I wouldn't have looked as good as I did on my wedding day without you." 
"I just wanted to say thanks for everything you've done for me. You've given me the confidence and realisation that I can do this and I can do anything I put my mind to."
"Her specific core exercises, strength work and conditioning have revolutionised my running. The marathon is yet to come but Julie's helped me to a sub 1.16 half marathon and a sub 34min 10Km."
Specialist Areas
Body fat reduction
Functional specialist
Injury prevention and rehabilitation
Sport specific training
Strength and conditioning
Weight loss
Qualifications
Level 3 Personal Trainer
Level 2 Gym Instructor
Leader in Running Fitness, Level 1
Sports Nutrition
Studio Cycling
Circuit Training
Gym Based Boxing