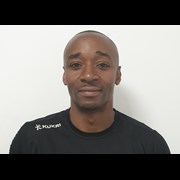 Joshua Ajibola
As a fitness enthusiast with over 10 years' experience in the fitness industry, my passion for fitness is fuelled by helping people achieve their goals. Training sessions are designed to be fun and challenging. Regimes used include circuit training, weight training, resistance training, explosive exercises, boxing, endurance and strength training.

This will include, weekly weigh-ins, body composition percentage, BMI, nutrition guidance, posture assessment and flexibility. These tests provide concrete statistics to help achieve your goals and monitor your progression.

My vision is to enhance your health and wellbeing by providing day to day guidance, support and motivation.
Specialist Areas
Body confidence
Muscle tone and development
Nutritional guidance
Weight loss
Qualifications
Level 3 Diploma in Personal Training
Level 3 Diploma in Nutrition
Level 3 Diploma in Gym-based Boxing
Level 3 Diploma in Circuit Training
Life Coach