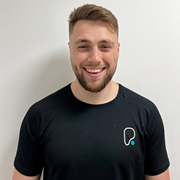 Jonny Hawley
Personal:
The gym can feel like an intimidating place, but it doesn't have to be. My aim is to make everyone feel comfortable and confident in reaching their goals. After sustaining some serious head injuries which stopped me playing rugby, the gym helped treat my depression. It allowed me to feel positive and make meaningful progress, and I want everyone to feel the same effects that I did.
Using weights and machines are vital to make long lasting progress. No matter what your goal is, be it strength training or wanting to lose weight, I can give you the knowledge to use them safely and effectively.
The gym is my happy place, and it should be yours too.
Approach:
Injury rehabilitation and getting you back to your very best is what I love, because no one should live with aches and pains.
My approach is based on scientific evidence. Every programme that I create for you will contain the most up-to-date research to gain the fastest results.
I aim to challenge your mindset about the way you approach the gym. Together we can make noticeable changes that will lead to lifelong positive habits.
What I can do for you:
Create a programme that will get you the results you want in the fastest way possible, through exercise, nutrition and determination.
The key to burning fat and toning up is in proper use of weights and high intensity workouts. HIIT workouts allow you to burn calories throughout the day, and can be as short as just 10 minutes!
A PT does not need to be for life. I aim to give you all the knowledge to go on and achieve your goals independently, otherwise I have not fulfilled my promise to you.
Specialist Areas
Injury prevention and rehabilitation
Muscle tone and development
Strength and conditioning
Weight loss
Qualifications
Level 2 Qualified FC
Level 3 Qualified PT
Degree from the University of Leeds