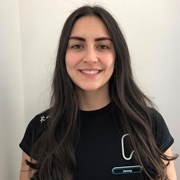 Jenny Corbett
Hi, I'm Jenny! I am passionate about giving you advice and coaching that you need to reach your goals, whether you need help with fitness or nutrition.
When I first began training at the gym, I didn't know much about the different equipment available and would avoid the weights area, mainly using the cardio machines, as I lacked confidence and felt intimidated. However, since becoming a qualified Personal Trainer and learning about exercise and nutrition in more detail, I would like to help those of you in a similar situation and give you the knowledge and confidence to train in any environment!
Lots of people see the gym as a chore, so my aim is to make our training sessions enjoyable for you. They will be tailored specifically to reach your body goals and naturally become part of your lifestyle, I will also provide personalised nutrition plans as I myself am a veggie, I have learnt how to cater for different dietary requirements when necessary.
I believe the benefits of exercise go further than physical improvements, which are great, however I also find training to be a great method of relieving stress, which gives me motivation to continue.
Whether your goal is to lose weight and get toned for the summer, build muscle or you just want guidance on how to maintain a healthier lifestyle. Whatever the reason for starting your fitness journey with me, if you are motivated, I would love to be the coach that helps you become self-confident, happier and stronger!
@jen.elise.coaching
Specialist Areas
Body confidence
Body fat reduction
Nutritional guidance
Weight loss
Qualifications
Level 3 Personal Training 
Level 2 Fitness Instructor