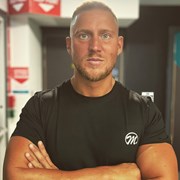 James Baker
My aim is to help you ditch the diet culture and create a new lifestyle that will get you long term results.
My educational style coaching is in place to build your gym confidence, give you clarity around your nutrition and give you the mindset to smash your fitness goals.
Having had 6 year's experience as a Personal Trainer prior to covid and working in the fitness industry in other roles prior to that. I transitioned my business into the online space. Educating new and existing clients on mindset, nutrition and lifestyle change.
A lot of my clients struggled with their diet and training mainly due to the quick fix culture of the fitness industry. My educational program is in place to develop you physically and mentally. My aim Is not only for you to achieve the best physique possible but also gain the knowledge and confidence to maintain it!
Specialist Areas
Bespoke plan
Body confidence
Body fat reduction
Muscle tone and development
Nutritional guidance
Strength and conditioning
Weight loss
Qualifications
Level 3 Personal Training
BsC Honors Degree in Strength & Conditioning
Specialised Online Mindset & Lifestyle Coach
Nutrition Expert
Former Physique Model Competitor