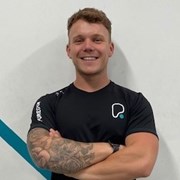 Jacob Brough
I've been into fitness for over 10 years (boxing, weightlifting, swimming and running) and my desire for results has led me into becoming a personal trainer. I believe everybody deserves to be happy within themselves and I want to help you get there. I prioritise getting the best results without having to sacrifice your social life.
For me, it is more than just programming exercises, it's about creating long-term, sustainable changes, that you will continue outside of the gym... having fun while doing so! I'm aware that fitness and nutrition can be daunting, having had my own struggles with weight/health, but I want to make it as easy as possible for you.
Whether it's to lose fat, build muscle, get stronger or to feel more confident in yourself, I'm here to help you!
Feel free to grab me for a chat or send me an email.
Specialist Areas
Body confidence
Body fat reduction
Strength and conditioning
Qualifications
Certified Level 2 – Gym Instructor
Certified Level 3 – Personal Trainer