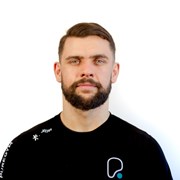 Jacek Kondracki MSc, ASCC, CSCS, CES
Jacek Kondracki is currently an MSc Sport Rehabilitation student at St. Mary's University Twickenham London. He also holds an MSc in Strength and Conditioning Science at Middlesex University. He is U.K. Strength and Conditioning Association (UKSCA) accredited coach and is also certified by the National Strength and Conditioning Association (NSCA-U.S.) and National Academy of Sports Medicine (NASM-U.S.). Jacek has acquired extensive knowledge and skills within the field of strength and conditioning, Olympic weightlifting, injury prevention and rehabilitation.
He has worked with members of the general public for the past six years and has supported them in achieving their fitness goals, correcting their ailments and overall improving their quality of life. Jacek is a former amateur boxer and brings with him 10 years of experience in this field. He is also a member of St Mary's Strength Club where he represents his university in weightlifting competitions.
In early 2018 Jacek worked with London Welsh RFC where he provided soft tissue therapy services. Previously, Jacek was an intern at Harlequins FC where he worked with the senior first team. He has also worked with a range of athletes from individual sports such as fencing, tennis and martial arts and with team sports such as volleyball.
Specialist Areas:
Rehabilitation and injury prevention
Technique coaching and effective programming
6 years of experience
Academic background
Competitive rates and tailored packages.
Specialist Areas
Bespoke plan
Body confidence
Body fat reduction
Functional specialist
Injury prevention and rehabilitation
Muscle tone and development
Persistent motivation
Postural correction
Strength and conditioning
Weight loss
Qualifications
MSc Strength and Conditioning
UKSCA Accredited Strength and Conditioning Coach (ASCC)
NSCA Certified Strength and Conditioning Coach (CSCS)
NASM Corrective Exercise Specialist
REPS Level 3 Personal Trainer