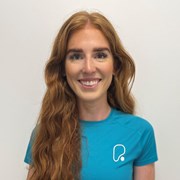 Georgie Bullock
Hi, I'm Georgie and I'm on a mission to empower women worldwide to discover balance, cultivate sustainable habits, and embrace a body they feel confident in, all while enjoying life's pleasures without restriction.
I wholeheartedly embrace and embody the concept of a balanced lifestyle because I firmly believe in its transformative power across all aspects of health, fitness, diet, and overall well-being.
Embarking on a journey of change can be intimidating, but you don't have to face it alone. I'm here to support you in rebuilding your relationship with food, your body, and your mindset. Investing in your health and well-being is one of the most valuable and rewarding decisions you can make.
If you're ready to take the first step toward becoming a stronger and more confident version of yourself, I'd kindly ask you to scan my QR code and complete a consultation form. Alternatively, feel free to reach out to me directly, and I'll be sure to respond within 48 hours.
Remember, have confidence in who you are today and take pride in the incredible person you are becoming.
Specialist Areas
Bespoke plan
Body confidence
Body fat reduction
Muscle tone and development
Strength and conditioning
Weight loss
Qualifications
Level 3 Personal Trainer
Level 2 Gym Instructor
First Aid
Bachelor of Science, Sport and Exercise Science