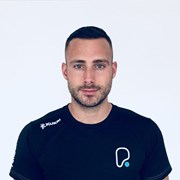 Fabio Pozzetto
I HELP BUSY PROFESSIONALS, TO BUILD STRONG BODIES, FOCUS & LONG-TERM SUCCESS.
Hi, I am Fabio and I am an Italian UK qualified personal Trainer with a bachelor's and master's degree but most of all with over 12 years of experience in the fitness industry.
My view of personal training goes beyond simply building aesthetics. I believe in achieving a strong body and a healthy mind so that you can  improve overall performance, look fitter, feel better and boost your self-confidence. More discipline and structure will help you overcome negative habits such as drinking, eating unhealthy food, and will allow you to make better choices.
I TEACH WHAT I'VE LEARNT FROM EDUCATION BUT MOSTLY FROM EXPERIENCE
As a kid, I was first chubby, then I became quite skinny.  I started lifting weights at the age of 16. The ideal image of myself has changed over time.  At times, I wanted to GET LEAN, and at other times I wanted to MUSCLE UP. A set of common factors helped me to succeed: DISCIPLINE, PERSISTENCE & DETERMINATION. I also have come to learn that success is not an overnight thing. Rather, it relies on consistently working hard to realise your goal.
Today, I keep on doing what I love: I train & work in fitness, I build effective workout plans and give nutritional advice that reflect my views on commitment and long-term success. If you would like to start training with me or simply hear about some of my clients' successful stories (or directly speak with them for a feedback) hit me up!
Specialist Areas
Nutritional guidance
Strength and conditioning
Weight loss
Qualifications
REPS Level 3 Personal Training 

Optimum Nutrition for Health & Performance

Gym Based and Circuit Training