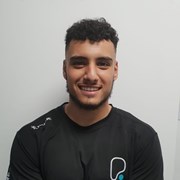 Deniz Arif
Hi, my name is Deniz also known as Den!
I am a passionate and enthusiastic qualified Personal Trainer here at PureGym.
My main aim is to help you achieve your targets and be confident in yourself, so let me be the one who helps you on this journey together from start to finish.
"You don't have to believe in yourself, just believe in your Personal Trainer."
I believe in this quote strongly as believing in your trainer is guaranteed to get you results. In my past experience as a footballer I did this and successfully achieved results I would not have if I was alone.
About me:
Since a young age, I have always had a strong passion for sports in general, spent a lot of my last couple of years in Barbados and Florida playing cricket and football, after spending a long time away from home I learnt and developed the mental toughness needed to overcome challenges/roadblocks and reach my results.
I have been there and done it myself. So I can empathise with your struggles of pushing through difficult times to become consistent, feel comfortable in the gym and accomplish the results you work for.
Specialist Areas
Body confidence
Body fat reduction
Injury prevention and rehabilitation
Muscle tone and development
Persistent motivation
Sport specific training
Strength and conditioning
Weight loss
Qualifications
Level 2 Fitness Instructing
Level 3 Personal Training