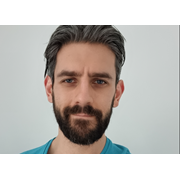 Anthony Kennedy
My name is Anthony Kennedy a fully qualified and experienced Personal trainer.
(let's be honest that's the best way to start this… so Google tells me)
I've been in the fitness industry long enough to know that words alone do no justice to an individual's journey including my own, I understand that confidence and happiness in yourself takes time to develop, which then becomes pride and love for having the willpower and discipline to say that you would never give up.
I've helped male and female clients achieve their goals with my methods and guidance, myself at one point of my life being 15 and a half stone, refusing to leave the house through fear of others opinion, spiralling down into self-pity and anger at how I had let myself get to that point, so I harnessed my anger my fears of "what if people stare, what if I can't improve? What if I fail etc" and I confronted them head on and I stand here today as walking proof that even at our lowest we CAN and we WILL - the hardest part is to DECIDE to take that moment to stand up and say I can do this, together we can make that decision to change for the better a reality.
I want to be part of your journey - together with my knowledge and experience we can make the biggest difference of your life by setting out achievable goals to an agreed and realistic timeframe with support along the way.
I have had so many successful clients transform their lives and never look back, with better fitness being a steppingstone towards a healthier mindset.  All you have to bring is yourself, and to stay with your decision to make that change - together we can make this goal a reality.
Specialist Areas
Muscle tone and development
Nutritional guidance
Weight loss
Qualifications
Certified Level 3 - Personal Trainer
Certified Level 2 - Gym Instructor
First Aid at Work