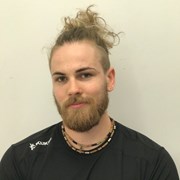 Contact
Free first session offered
Email me
Alex Fry
My client base is predominantly females that not only want to change the shape of their bodies but want to feel stronger and more confident while doing so, guys don't worry availability for you as well!
I love working with clients that have the same drive and passion that I have for feeling stronger, fitter and healthier alongside changing their aesthetic. 
Using my Triathlon, Powerlifting and Weightlifting qualifications with athletes/clients I am able to offer a variety of different styles of training for each individual.
I take pride in instilling knowledge into my clients, so whether you are at the beginning of your fitness journey or have been training for years you can be sure you'll learn a lot as well as change physically. With this approach I will ensure you know why you are doing what you are doing and not just because somebody online said so!
I will also make you fully aware of posture, timing and technique while training, along with nutritional advice/workout plans to further your results outside of our sessions.
Whatever your goal, we can achieve it together.
Get in touch to book your free 15 minute consultation now.
Specialist Areas
Body confidence
Functional specialist
Injury prevention and rehabilitation
Muscle tone and development
Strength and conditioning
Qualifications
Strength and Conditioning Coach
Olympic Weightlifting Coach
Powerlifting Coach
Triathlon Coach
Natural Running Form Coach