What it means to be LGBTQ+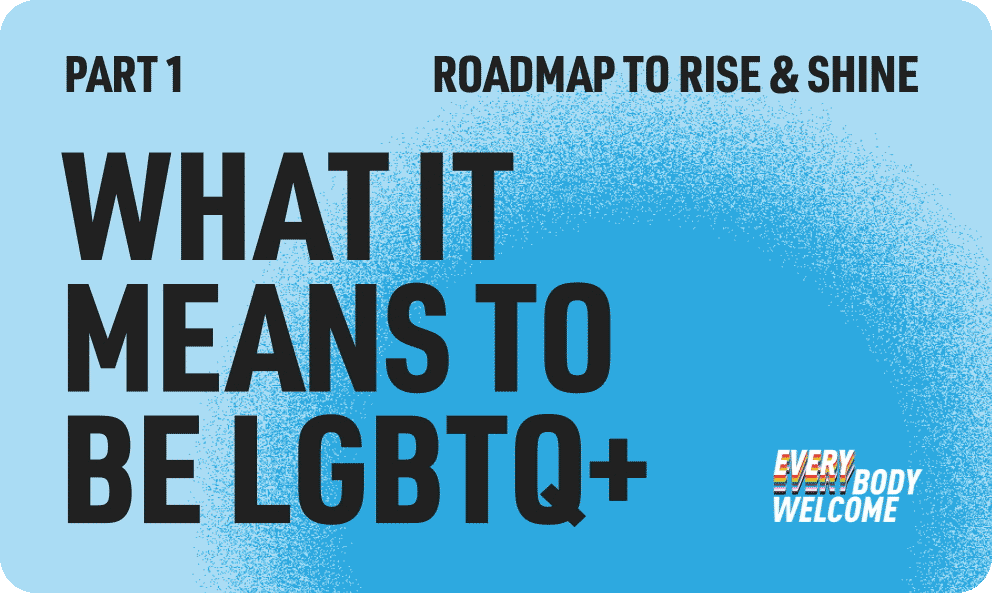 Small gestures can make big differences, and this is symbolic of what we believe in at PureGym: feeling free to be whoever you are and accepting each other's differences. We welcome everybody.

That's why this Pride Month, together with our LGBTQ+ Employee Network Group, we have created a simple guide on fostering mental wellbeing and tips to become a better ally. This forms part of our 2022 Equality Action Plan and is supported by a number of important initiatives throughout the year to strengthen our commitment to make our workplace and gyms truly inclusive for LGBTQ+ people.

Whether you identify as LGBTQ+ yourself, love someone who does, want to become a better ally or just want to learn more, we hope our Roadmap to Rise and Shine will help to raise awareness and promote a more inclusive future for all.
In this blog, we look at what it means to be LGBTQ+
What is Pride?
Pride is a time for the LGBTQ+ community and allies to come together and celebrate acceptance, equality, and love. It's a time to amplify the voices of the LGBTQ+ community and promote inclusivity for all.

But it is also a protest. The roots of Pride date back to the Stonewall Riots in June 1969 which changed LGBTQ+ rights forever. The riots were triggered by police harassment at the Stonewall Inn, a bar catering to New York's gay, lesbian, transgender, and crossdressing community. The bar's patrons took a stand and fought back, striking a symbolic blow for gay liberation. This is why Pride Month is celebrated in June, even though events in the UK run through until the end of August.
 
Pride has seen major changes in LGBTQ+ rights and equality since it first began and continues to advance LGBTQ+ liberation further. This year marks 50 years of Pride events in the UK, the first of which took place in London on 1 July 1972.

We created our Rise and Shine campaign this year in recognition of LGBTQ+ history - rising in the face of adversity for yourself and others, and encouraging everyone to shine and celebrate who they are.
WHAT DOES LGBTQ+ MEAN?
LGBTQ+ stands for Lesbian, Gay, Bisexual, Transgender, Queer (or sometimes questioning) and others. The + represents all other gender identities and sexual orientations including Pansexual, Intersex, Asexual, Transgender and Non-Binary.
The purpose of the acronym is to represent the tremendous diversity of people who are same/similar gender attracted and transgender. The addition of the plus is better able to fully capture that diversity.
The first four letters have been used since the late 80's but have been increased to include other sexual identities in order to offer better representation. It is important to remember that the words and definitions of these terms are always evolving and may change to become more inclusive.

WHAT DOES 'QUEER' MEAN?
The term 'Queer' was commonly used as a slur in the past and has significant emotional weight due to circumstances.  However, in recent years it has been reclaimed by the LGBTQ+ community and is becoming more common now as a neutral (and shorter) way to refer to the community. It's important to note that not all LGBTQ+ people are comfortable with it. However, some will use it to refer to themselves and the community.
WHAT IS GENDER IDENTITY?
Gender identity is our sense of self whether that is a man, woman, neither or both.
Unlike our gender expression, gender identity is not outwardly visible to others. For most people their gender identity aligns with their assigned sex at birth, however this might not always be the case. For transgender people, gender identity differs on varying degrees from their sex assigned at birth. Proper use of gender identity terms, including pronouns is a crucial way to signify courtesy and acceptance.
Using correct pronouns can be compared to pronouncing someone's name correctly. It's a way of showing respect and referring to them in a way that is consistent with who they are.


At PureGym, we want to make sure everybody is welcome all year round – not just for Pride month. This campaign forms part of our LGBTQ+ 2022 Equality Action Plan and is supported by several important initiatives throughout the year to strengthen our commitment to make our workplace and gyms truly inclusive for LGBTQ+ people.
As part of our Roadmap to Rise and Shine, we've also put together a guide on how LGBTQ+ people can look after their mental wellbeing which you can view here. Want to learn more about our LGBTQ+ group who inspire us every day? Read their stories here.
To find out more information on what it means to be LGBTQ+ and the history of Pride, here are some great sites to check out:
AKT (LGBTQ+ Youth Charity)