The Age of Champions: When Do Sports Stars Reach Their Peak?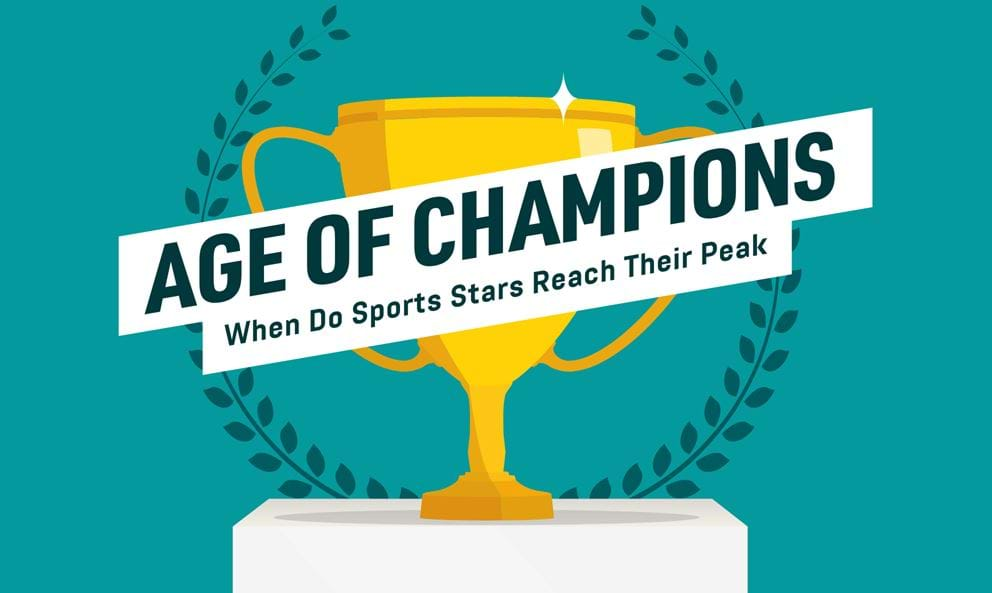 In 2020, multiple sporting events were unfortunately cancelled due to the ongoing COVID-19 pandemic, which has in turn, left us with a packed sporting calendar in Spring/Summer 2021. The Olympics are on the horizon, alongside the European Football Championship, the long-awaited return of Wimbledon and more!
With all of these trophies and medals up for grabs in the coming months, it got us thinking: when in an athlete's career are they most likely to win? Peak performance is a much-discussed topic in the sporting world, so we decided to find out if there is a 'golden age' of champions?
Lucky Number 27
To do so, we looked at more than 1,000 trophy winning teams and singles stars across 19 different competitions dating back to the year 2000. Averaging out the ages (at the time of winning) of all of these squads, the age athletes can expect to win the most trophies is 27-years-old!
This will be good news for sports stars such as Harry Kane, as the prolific North London striker goes into the Euros just before turning 28. The age has proved a good omen for other stars, with the likes of Cristiano Ronaldo becoming the first player to score against all 19 opposing La Liga teams while winning the league with Real Madrid at 27, while this was also the age at which LeBron James took home his first ever NBA title.
While 27 was the average championship winning age, there was some evident difference between sports, with golf having the eldest trophy winning age, while the likes of Rugby players and Marathon runners also benefitted from being slightly older.
Peak performance also differed between the sexes, as female Olympic weightlifting was found to have the youngest average age of trophy winners, with Gold Medallists in the Women's Middleweight competition having an average age of just 24. The theme continued through other sports, with women reaching Championship winning age earlier than men. For instance, male golf players can expect to win the most titles at 32 years old, according to the research.


Being over the age of 27 is by no means an end to sporting prowess. In tennis, Roger Federer won his eighth Wimbledon competition at almost 36, while Serena Williams won her last singles title aged 35 at the 2017 Australian Open. On the other end of the scale, Maria Sharapova also defied age in the sport, being crowned a Wimbledon champion at just 17 years old.
Elsewhere, Tom Brady stands out as a shining example of age being just a number, having become the most decorated quarterback in NFL history and who, at the age of 43, is still going strong. Not only did he win the 2021 Superbowl with the Tampa Bay Buccaneers, but was named the game's Most Valuable Player.
Just recently, Mickelson won a Major Golf championship at the age of 50, becoming the oldest person ever to win a major. 
When it comes to full teams, Premier League squads such as Leicester City's historic 2015/16 table topping team did come in at the golden average age of 27, while the likes of AC Milan's 2007 Champions League team took home the trophy at an average age of 31, with 33-year-old Filippo Inzaghi scoring both goals.
Fitness for all ages
With some of the world's biggest sporting events taking place over the coming months, it's going to be a time where we're not only to cheering our teams or favourite sports stars on, but also getting inspired to be more active and potentially take up a sport ourselves. Whatever your age, the gym is the perfect way to support sporting performance and provide a great base of strength and stamina, while boosting mental health too!
With that in mind, we've created a special set of workouts inspired by some of the stars who'll be taking centre stage this summer. So whether you're a football fan or want something to help your marathon running, we've got you covered with the themed workouts below
Football Focused Workouts
With the domestic season soon to be wrapping up before the European Championships and Copa America get underway in the Summer, football fever truly is upon us. Whether you're in a team yourself or simply fancy a kickabout when the sun is shining, here are a few workouts to help your game – inspired by some of England's very best!
Raheem Sterling: Speed, Power & Agility
After another trophy winning season with Manchester City, Raheem Sterling is right in his prime, just months away from turning 27. Sure to be part of the England line-up in the Summer, here's a workout focused towards boosting your speed, power & agility.
Work for 20 seconds completing as many reps as you can for each exercise and rest for 10 seconds before moving on to the next exercise. Once you've completed all 6 exercises. Repeat the circuit 3-5 times.
1. Quick feet forward and back
Imagine there's a line on the floor. Step one foot infront of the line and bring the other foot infront the line, then bring one foot behind the line and bring the other foot behind the line.

2. Quick feet in and out
Same as exercise number 1 but instead, shuffle your feet in and out around hip width distance apart.

3. Stance switches
Stand in a ready stance with hips facing forward. Switch your stance to about 45 degrees, than back to starting position and repeat with the other side.

4. Split jumps
Start in a lunge position. Jump as high as you can and switch legs so you land in the lunge position with the opposite foot infront.

5. Lateral bounds
Leap to the left while maintaining balance on the left foot and then leap the right foot out whilst maintaining balance on the right foot as you land. 

6. Sprint to backpedal
Sprint forward a few steps and then sprint backwards a few steps. Try to stay low as you sprint backwards to engage your quads and glutes.

Jack Grealish: Legs/Calves
Potentially lining up alongside Sterling is Birmingham born Jack Grealish. A superstar for Aston Villa, the playmaker is known for his sizeable leg strength, partly due to the unique way he wears his socks! If you're aiming for Grealish levels of leg strength, try this:
One leg squat to bench. 5-8 reps on each leg. 1 minute rest. 4 sets.
Front squats 6-10 reps. 1-2 minute rest. 4 sets.
RDLs 8-12 reps. 1-2 minute rest. 4 sets.
Walking lunges 16-20 reps total. 1-2 minute rest. 3 sets.
Calf raises 15-20 reps. 1 minute rest. 3 sets.
Lucy Bronze: Strength/Power
Lucy Bronze is one of the best footballers in the world, and literally has the word 'tough' in her name (full name, Lucia Roberta Tough Bronze). Fitting, as the England and Manchester City right back is known for strength in every aspect of her game. The kind of strength that has led her to being named the Best FIFA (and UEFA) Women's Player of the Year. For a workout focused on promoting power, try:
Back squat 5-8 reps. 2 minute rest. 4 sets.
Split squat 8-12 reps. 1-2 minute rest. 4 sets.
Single leg RDL 8-10 reps each leg. 1 minute rest, 4 sets.
Lateral lunges. 10-12 reps each leg. 1 minute rest. 4 sets.
Workouts to Improve your Tennis
Football isn't the only sport taking centre stage this summer though, with the return of Wimbledon! We've already mentioned Roger Federer and Serena Williams, two stalwarts of the sport that inspire fans of all ages, we couldn't resist creating workouts related to parts of their game that have made the pair so relentlessly successful.
Roger Federer: Endurance
Roger Federer's record speaks for itself, and the ability to keep playing at such a high level for so many years is a testament to his endurance. Taking true stamina, here's a workout to boost your own.
For the first round work for 60 seconds and rest for 20 seconds in between each exercises. For the second round work for 45 seconds and rest for 15 seconds between each exercise. For the third and final round, work for 30 seconds and rest for 10 seconds between each exercise.
Drop squats 
Jumping lunges
Lateral lunge with medicine ball
Quick feet forward and backward
Side shuffles
Serena Williams: Arm & Leg Strength
Tennis is a sport that takes some serious stamina, but also a lot of strength in both the upper and lower body. There's no better example of this than Serena Williams. Now 39, she's an inspiration to tennis players of all ages from around the world. Give this strength focused workout a go!
Barbell deadlift. 5-8 reps. 2 minute rest. 4 sets.
High plank dumbbell rows. 12-16 reps in total. 1 minute rest. 4 sets.
Lateral bounds. 20 seconds on. 20 seconds off. 5 sets.
Med ball rotational slams. 6-8 reps total. 30 second rest. 4 sets.
Side plank knee drives. Controlled reps for 20 seconds. Switch sides. Repeat 2 times.
A Workout for Long Distance Running
Finally, the Summer also has the Olympics in store, and while there's too many events to pick them all, one that always catches our collective imaginations is the marathon. A great tour through the host city and into the Olympic stadium, marathon running is one of the biggest tests of fitness and is one with no age limits whatsoever. Take Fauja Singh, who ran his first marathon aged 90! Try this workout to aid distance running:
Squat. 

Perform 6-10 reps. 3 -4 sets. 1-2 minute rest in between sets.

Single leg deadlift.

 Perform 8-10 reps on each leg. 3 -4 sets. 1-2 minute rest in between sets.

Swiss ball hamstring curls

. Perform 8-15 reps. 3-4 sets. 1-2 minute rest in between sets.

Mountain climbers. 

Perform 12-20 reps. 3-4 sets. 1-2 minute rest in between sets.

Calf raises. 15 reps each leg. 3 sets.
Further running related workouts can be found here, while we also have a whole host of free workouts available too! So no matter which sport you're interested in or what your specific fitness goals are, you can tick them off at the gym.
*Before starting a new exercise programme please consult a Doctor or qualified professional first.