Slow Cooker Asian-Style Lamb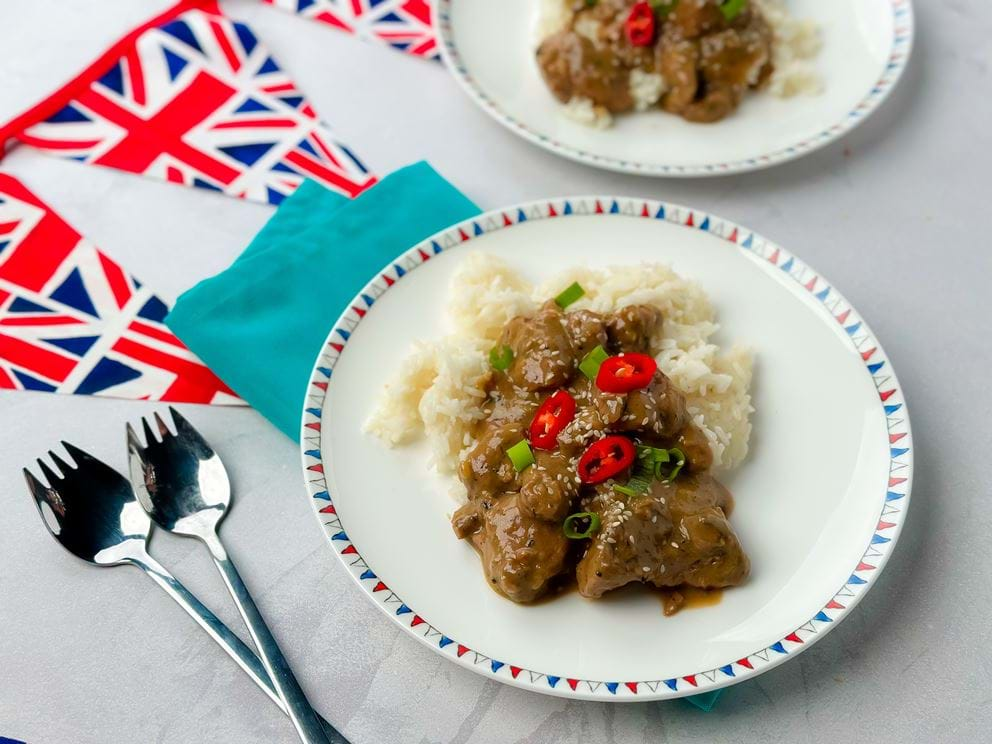 Inspired by Ken Hom's official coronation Asian-Style rack of lamb recipe, our slow cooker version tastes incredible with minimal fuss.

Perfect for coronation celebrations or tasty meal prep, this recipe is packed with 29g of protein per portion.
Simply spend 10 minutes throwing ingredients into your slow cooker, before leaving it to work it's magic for 6 to 8 hours.

Serves: 4 
Prep time: 10 mins
Cook time: 6-8 hours 
Ingredients
To make the lamb you will need:
400g lamb, diced 
1 tbsp cornflour 
1 tbsp maple syrup
2 tbsp Dijon mustard
1 tbsp light soy sauce
2 tbsp dark soy sauce
6 garlic cloves, crushed 
2 tbsp dried sage
1 tsp sesame oil
2 tsp peanut butter
2 tsp freshly ground black pepper
3 tsp salt
To serve you will need:
2 bags of microwavable jasmine rice 
100g spinach
2 spring onions, sliced finely 
1-2 red chillies, sliced 
2 tsp sesame seeds 
Method: 
2. Heat a frying pan with low-calorie oil spray to a medium heat.
3. Coat lamb in cornflour and then add to the hot pan to brown, before putting into the slow cooker. 
4. Add maple syrup, Dijon mustard, soy sauce, garlic, sage, sesame oil, peanut butter, black pepper and salt to the slow cooker with 200ml water and mix well. 
5. Set slow cooker to low and cook for 6-8 hours. 
6. If the sauce needs thickening, mix 1 tbsp cornflour with 1 tbsp of water and then add to the slow cooker and stir.
7. Serve on top of rice with spinach and top with spring onions, red chilli and a sprinkling of sesame seeds.
Top Tip: You can store our slow cooker asian-style lamb in the fridge for 3 days to make for quick dinners or easy meal prep. You can also portion it up and freeze for up to 3 months, just defrost in the fridge completely before reheating.