Sir Chris Hoy's Top Tips for Leg Strength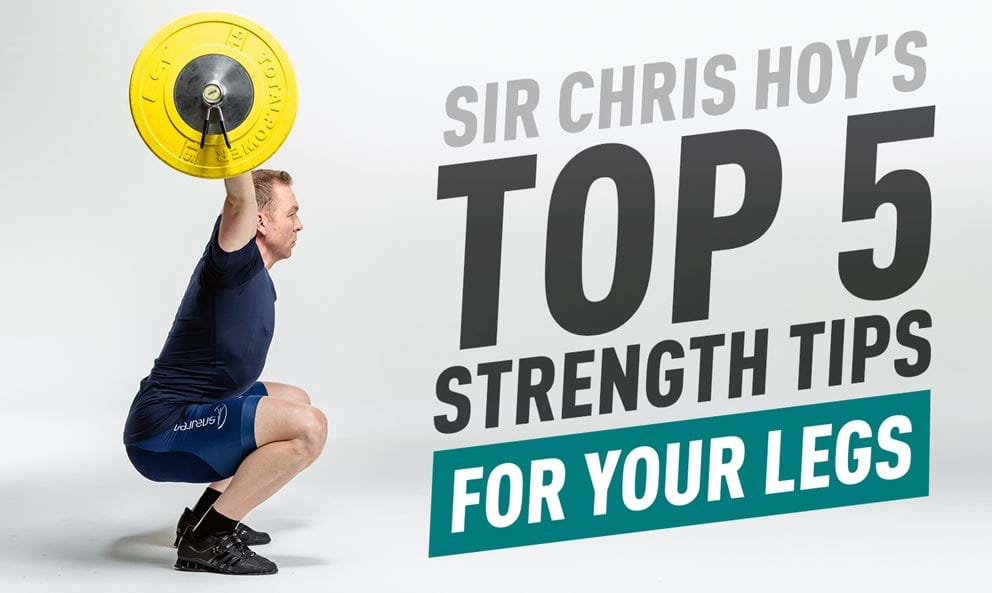 Photo credit: Chris Terry
Leg strength could not be more important for cyclists, so we've asked Sir Chris Hoy to share his top tips for getting stronger legs. From his years of experience in the gym and knowledge of health and fitness, Sir Chris recommended the following for both newcomers and more experienced trainers
5 SIGNED COPIES OF SIR CHRIS HOY'S HOW TO RIDE A BIKE BOOK UP FOR GRABS - FIND OUT MORE
1. Plan Ahead
Know exactly what exercises you want to do, the exact number of repetitions and sets and the rest intervals in between. That way you'll make the most of your time and when it gets tough you will be more likely to stick to the plan, rather than taking the easy option. When it comes to leg day you have to expect it to be challenging so by having a clear plan and mentally preparing for it before you arrive you will get the best out of yourself.
2. Don't neglect mobility work, particularly in your warm up
Doing dynamic stretches and using resistance bands to improve your mobility will dramatically improve your ability to get full depth and full range of movement without compromising form. Being able to do an over head squat all the way to the floor for example takes time to develop the strength, control and flexibility but it is worth it. Poor range of movement is also often to blame for people hitting a plateau in strength gains and, more importantly, it can lead to injury too.

Photo credit: Chris Terry
3. Squat
It is known as the King of Exercises for a reason. Squat deep, with good form and build the weight up gradually and eventually, over time, you will see the biggest improvements in your leg strength by focusing on this exercise. Leg press is a good crowd pleaser but it's easy to cheat by going shallow in the depth. Squatting with perfect technique, even with a light weight, shows you're willing to play the long game and build up gradually without cutting corners. Try to get used to lifting without a belt; it will teach you strong core and brace from within, rather then relying on external compression.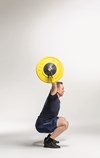 Photo credit: Chris Terry
4. Vary your foot positions
For the squat and the dead lift, it's worth trying narrower and wider foot positions. In the dead lift you can try sumo lifting or regular lifting, and for the squat you can go shoulder width apart or wider than shoulder-width apart with your feet pointing out. This will place a different emphasis on the muscles within the quadriceps and the glutes by targeting different parts of these muscles it creates different stimulus which can help you get through a plateau in your training. Make sure you do this safely with correct technique and a matter of which foot position you go for – always make sure your knees track directly over your feet and you're not placing your knees or lower back in a dangerous position which could cause injury.
5. Work with a partner
Leg day is tough and if you can have someone to work with it can often help from encouragement point of view, as a spotter, they can be a little bit of competition to help push you on and get the most from your session and it will also be more fun if you're training with someone else and not just by yourself.
WIN A SIGNED COPY OF HOW TO RIDE A BIKE
We've got 5 signed copies of Sir Chris Hoy's How To Ride A Bike up for grabs!
All you need to do to enter the competition is to head over to our Instagram page, and on the 5th November, we'll be coming up with a trivia question about Sir Chris Hoy for you to answer so keep your eyes peeled for the post! The first 5 people who get the correct answer will win a signed copy.
Winners will be announced through PureGym social channels and contacted directly on the 27th November 2018.
Good luck! T&Cs apply.
About Sir Chris Hoy
6x Olympic Gold medallist and 11x World Champion Sir Chris Hoy MBE is one of the most successful British athletes of all time. Following his retirement in 2013, Chris has continued his passion for cycling, launching his own range of bikes and clothing. With his dedication to helping people improve their lives through exercise, he decided to become an ambassador for PureGym, spreading the word and tell people what PureGym is about. In his own words "PureGym offers really great fitness facilities with enthusiastic, supportive staff. They offer 99% of what 99% of the population could possibly want for a truly great work-out.