Apply to be A PureGym 'Gym Tester'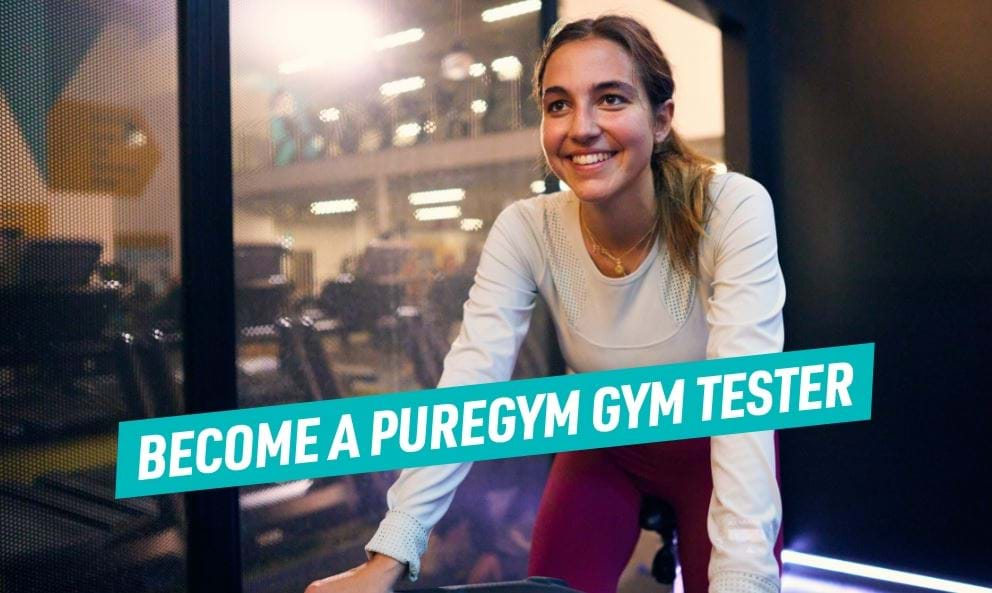 Applications now closed
We're on a mission to help more people lead healthier, more active lifestyles. We've already built the UK's largest network of affordable gyms, and we are working hard to ensure that everybody feels welcome at our gyms.
However, we know that for some, joining the gym can be an intimidating experience. Whether it's not knowing how to use the equipment or feeling like everyone else is more experienced than you are, there are certain elements of going to the gym that put some people off.
We are continually striving to make the gym experience better for everyone, including those who struggle with gymtimidation. We really value our member feedback as it helps us to understand where we can do better – we collect thousands of members' feedback every day, and we have a whole team dedicated to using this data to improve our gyms.
But, we want to go one step further, so we are launching a new opportunity that will help us improve PureGym even more: the PureGym 'Gym Tester'.
Do you have feedback on your time at PureGym? You can leave your feedback here, or via your gym page on our website.
What Is A Gym Tester?
Have you ever wished you could be paid to go to the gym? Because that's what this opportunity involves. We're looking for two Gym Testers who can provide us with in-depth, and brutally honest, feedback on what it's like to use PureGym as a new member.
Each Gym Tester will be provided with a six-month free Plus membership and be rewarded with £300 for their crucial insights on the gym experience. Those selected will also have the chance to speak to our Insights Manager about their time at PureGym, and their feedback will be used to improve our gyms and the experience we deliver.
Who Can Apply?
We want to improve the PureGym experience for those who have little to no experience in a gym environment and are scared to join as a result.
We are therefore looking for two applicants who are new to the gym: they have either never had a gym membership before or have had a membership but did not use it. A desirable but not essential trait is being nervous about visiting a gym, whatever the reason may be.
The role itself is flexible as you can visit the gym at times and days of your choosing, so whether you are studying, working, or parenting, we'd love you to apply below.  
Applications will close on Sunday 30th January 2022 at 23:59.
Does It Depend On Where I'm Based?
This opportunity is open to anyone in the UK and can be carried out at any of our 300 gyms, so whether you're based in Southampton, Aberdeen or anywhere in between, you could be our Gym Tester. If you're in an area where there are multiple gyms, we may ask you to visit more than one gym during your time in the role.
What Will You Need To Do As Our Gym Tester?
The Gym Tester will be required to do the following tasks within their first month in order to be rewarded £300:
Download and use the PureGym app to enter the gym
Visit the gym* a minimum of eight times, including trying at least two classes
Rate each visit across several areas, including getting into the gym, using the app, and gym equipment. The Testers will be informed when they are chosen.
Following the minimum eight visits in the month, the Gym Tester will be required to write a short roundup of their experience, including the key things they enjoyed the most about the gym, and what they would like to see changed. This may be used on the PureGym blog.
We may also arrange an informal chat with our Head of Member Services to discuss your experience further.
*As a Plus member, the Gym Tester will have access to multiple PureGym locations, so they will be able to visit and rate multiple gyms.
Applications closed
To apply to be one of our Gym Testers, simply fill out the form below, being sure to tell us why you believe you're the perfect candidate. Applications for the role will close on Sunday 30th January 2022 at 23:59.
Terms and conditions:
All entrants must be based within the UK and aged over 18 years old.
All entrants must not currently be a member of another gym, or have only joined a gym during the last 3 months (1st October 2021).
The opening date for entries is 5th January and will close at 11:59 pm on Sunday 30th January 2022. Entries after this time will not be accepted.
Two winners will be chosen by random draw and will be notified on Monday 31st January 2022. The winner will not be employed by PureGym.
The successful candidates will receive a free six-month PureGym Plus membership to carry out the duties of the role, which will be sent to the winners when they are contacted. The £300 will be received upon completion of feedback only.
The prize is non-exchangeable, non-transferable and no alternative is offered.
The winners will be notified by email (using details provided at entry) before Friday 4th February 2022. If a winner does not respond within one week of being notified, the prize will be forfeited and PureGym will be entitled to select another winner.
In the event of fraud, abuse, and/or an error affecting the proper operation of this prize draw, PureGym reserves the right to end or suspend the prize draw; amend these terms and conditions; declare void the notification of the winner.
The winner may be required to participate in publicity related to the prize draw, which may include the publication of their name and photograph in any media.
Entrants' data will be collected, stored, and processed for the prize draw, in line with PureGym's privacy policy (https://www.puregym.com/privacy/).
The prize draw will be governed by English law and entrants to the prize draw submit to the exclusive jurisdiction of the English courts.