Oven Baked Fish And Chips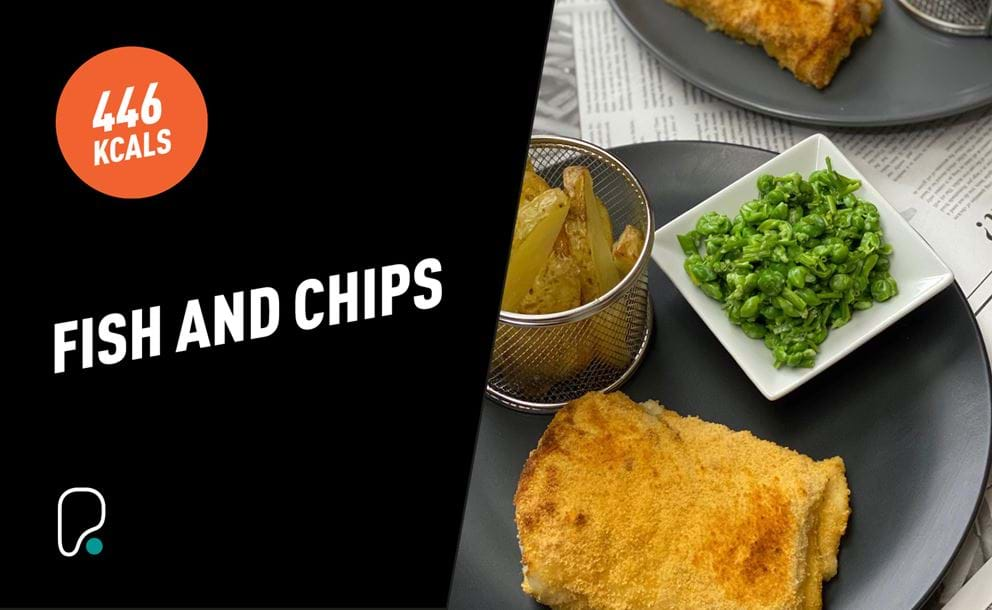 Enjoy a piping hot home-cooked fish and chips with this simple recipe for less than £2.50 per serving. You don't need a deep fryer - you just need an oven, making cleaning up after your meal effortless! 
While eating a fish and chip takeaway in moderation is fine, if you're looking for a healthier alternative that tastes lighter, this oven-baked version is a tasty delight.
Ingredients
Serves 2
Price per portion £2.48
2 cod loins
300g Maris piper potatoes
40g breadcrumbs
20g flour
1 egg
1 tbsp rapeseed oil
125g frozen peas
25g reduced fat crème fraiche
1 small bunch chives
Low Calorie Oil Spray
Salt and Pepper to taste
Method
Preheat your oven to 240 degrees Celsius
Peel the potatoes, and then slice into chips. Boil in lightly salted water for 4 mins.
Drain well, and when cool tip onto baking tray. Spray with low calorie oil spray.
Bake for 20 mins, turn and bake for further 15 mins
Whilst the potatoes are in the oven, dust the cod loins with flour, dip into beaten egg then roll in breadcrumbs until completed coated.
Place the cod loins in the oven for 20 - 25 minutes until cooked through and golden brown.
Cook peas in boiling water for 2-3 minutes.
Mix peas, chives and crème fraiche in a bowl and lightly mash then together.
Serves your fish, chips and peas together for the perfect fakeaway.
Nutrition information per serving:
Calories: 446
Protein 39.3g
Carbs: 44.8g
Fat 10.7g
Sugars 6.2g
For more fakeaway recipe ideas click here.