Breakfast Tacos Recipe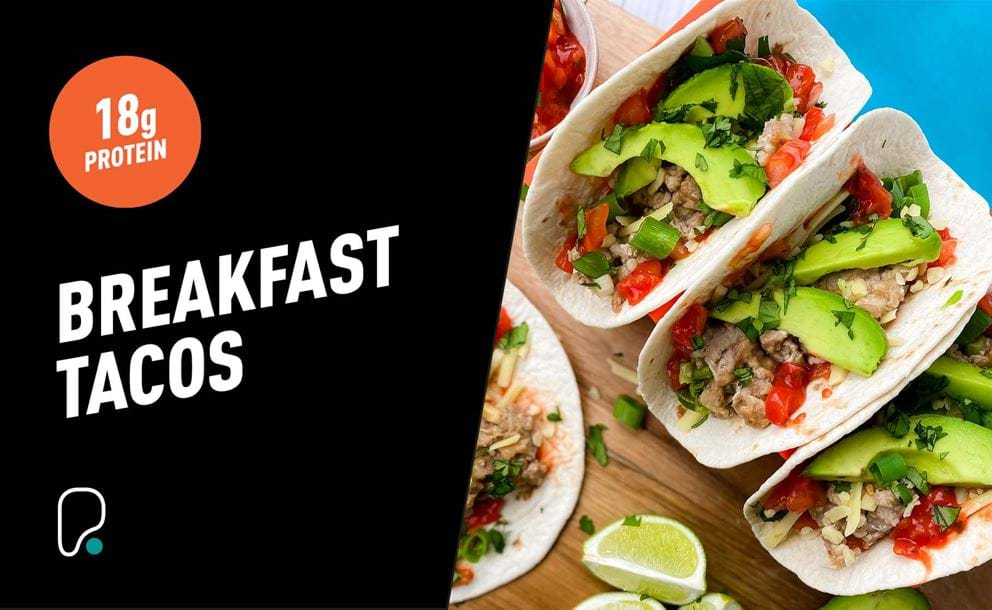 Say goodbye to boring breakfasts with our delicious breakfast tacos. We've stuffed mini tortillas with scrambled eggs, creamy avocado, refried beans, and fresh tomato salsa for a breakfast dish that tastes amazing and will keep you full up until lunch, thanks to the 18g of protein in each serving. There's also 4g of fibre in each portion thanks to the avocado and beans, which you can double up on if you want more!

This breakfast takes just 15 minutes to make, so you won't have to wait until the weekend to cook it up.

Serves: 2
Prep time: 5 mins
Cook time: 10 mins
Ingredients:
4 mini tortillas
4 eggs, beaten
2 spring onions, sliced
30g light cheddar cheese, grated
2 tbsp refried beans
¼ avocado, chopped
1 lime
1 tbsp fresh salsa
Fresh coriander, chopped
Salt and pepper
Low calorie oil spray
Method:
Spray a frying pan with low-calorie oil spray and put on a medium heat.
Gently fry the whites of the spring onion and the refried beans.
Next, pour in the beaten eggs and scramble on a low to medium heat until soft and then season to taste.
Now to serve. Add little salsa to each tortilla and spoon the scrambled egg mix on top. Finish with a sprinkle of cheese, avocado, the green of the spring onions and coriander. Squeeze over some fresh lime and serve
Looking for more healthy breakfast recipes? Give our double chocolate baked protein oats recipe a try. Or if you're more savoury than sweet first thing in the morning, whip up our simple shakshuka or our all-day breakfast frittata recipe.