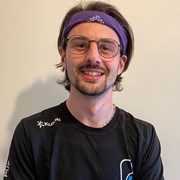 Contact
Free first session offered
Email me
Zach J R Kingsbury
Let me introduce you to BE UNIQUE Personal Training. My name's Zach and I'm ready to change your life…
At BE UNIQUE we want everyone to have two things – SELF BELIEF and DETERMINATION. The rest are variables. Lots of people believe that to be fit and healthy you HAVE to be able to lift heavy weights or HAVE to be able to run a marathon without stopping – This just isn't true! The definition of 'Fitness' is 'The condition of being physically fit and healthy' and the definition for 'Health' is 'The state of being free from illness and injury'. These can be achieved in a number of ways! I have always believed that everyone has the capability to be the BEST version of themselves. Every single one of us can meet and exceed our goals… It just takes a lot of those two things I mentioned earlier… SELF BELIEF & DETERMINATION.
If you fancy a chat on how I can help you change your life, or if you have any questions… Grab me and say hi! I'm always happy to help. Chances are I'm sporting a bandana… So, I won't be hard to miss!
Specialist Areas
Sport specific training
Strength and conditioning
Weight loss
Qualifications
Level 3 Personal Training
Optimum Nutrition for Health & Performance Certificate
Fusce tincidunt tempus dictum.