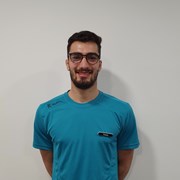 Tomas Cheer
​Half French, half Argentine and I still can't decide who to support in the world cup. The winning team?
Growing up, sports has always been a major part of my life. I started out playing football and moved on to rugby, but now my real passion aside from the gym is Brazilian jiu-jitsu.
The thing I loved the most about my sports, is that even though I started off terrible, the more I turned up to practice the better I got. I practiced on my best days, I practiced on my worst days and I always got 1% better each time..
Becoming a personal trainer has been very rewarding for me. As all I want to do, is to teach you that with consistency, determination, and a little time, you can accomplish anything, in your fitness journey or everyday life.
I am here to help you set and smash your goals and celebrate as you achieve each one.
Specialist Areas
Body confidence
Body fat reduction
Muscle tone and development
Nutritional guidance
Persistent motivation
Weight loss
Qualifications
Certified High Intensity Interval Training
Certified Kettlebell Training Instructor
Certified Suspension Fitness Instructor