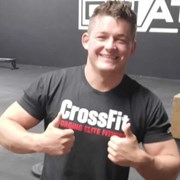 Scott Bentley
I am here for the individual who is ready to make a life long lasting investment in their physical and mental wellbeing.  
I can take you from knowing nothing about lifting technique, to feeling comfortable to train on your own and even to the point of having the capability of Coaching weight lifting to others within 10 sessions. 
If you want to learn the finer intricacies of lifting weights, that ultimately keep you safe, improve your posture, improve your muscle development and suck you into the wonderful world of lifting with all it's finer quirks and nuances. So you keep coming back for more – then I am the Coach for you. 
After you've completed my Ten Week Programme covering all the fundamental exercises that you will need to use for the rest of your life. I will offer a personalised service specific to your physique or strength goals – this will offer you a longer term and more affordable solution for Coaching. If the desire is there. 
Full nutritional support is included and offered from Day One. 
Ready to start? Send me a text message or direct message on Instagram today! 
Specialist Areas
Body fat reduction
Functional specialist
Nutritional guidance
Sport specific training
Strength and conditioning
Boxing
Qualifications
Level 3 Personal Trainer
Level 2 Gym Instructor
CrossFit Level 1 Instructor
Coaching Powerlifters - Michael Zourdos