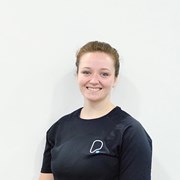 Sarah Wilkinson
"As someone who has consistently said they would never go to the gym, it is now my favourite place." 
"I always found weight training daunting but with Sarah's encouragement and continuous support, I've reached goals I never thought were possible."
"Sarah has produced a type of motivation in me I never knew I had." 
Get Stronger With Sarah 
I help people build strength, build knowledge, build confidence whilst dropping fat and enjoying the process! 
We create long term healthy habits, make manageable changes that suit your lifestyle to make you feel the best possible you on a daily basis. We build knowledge to debunk all of the super confusing fitness jargon, learning skills to not only lose weight but giving you the tools to keep it off! We build confidence, learning how to safely lift weights and knowing how to properly execute movements. 
I use my career as a chef and my own lifestyle journey to help my clients build nutrition knowledge whilst creating fun and tasty recipes that never get boring. 
I'm super proud of all the amazing results my clients have achieved over the past few years! 
If you want to feel more confident in the gym, build your strength, whilst 'dropping weight and toning up'. Please catch me on the gym floor or give me a message! 
Social @getstrongerwithsarah
Website www.getstrongcoach.co.uk 
Email [email protected]
Specialist Areas
Body confidence
Nutritional guidance
Weight loss
Qualifications
Level 2 Gym Instructor 
Level 3 Personal Trainer 
Level 3 Nutrition and Weight Management 
Qualified and Experienced Chef