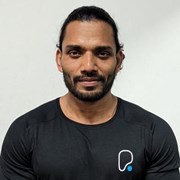 Sagar B K
About ME: My passion for health and fitness began in India in 2011, where I attended my first boxing class as a student. I have been in the fitness industry for nearly a decade now, continuously learning and developing myself, so I am able to help others and share my knowledge and experience. Health and Fitness was a lifeline – It kept me focused, out of trouble, and achieve a better life and version of myself.
I am now a competitive Men's Physique Athlete and have competed in many competitions in India and Nepal, stepping on stage for the first time in the UK placing Top 7 at the British Finals 2019. My most recent placing was at the Arnold Classic UK 2021 – Top 10.
Mission Statement:  My mission is to change your mindset and develop good habits to support and implement a healthy FIT lifestyle to achieve the best version of yourself physically and mentally; 24 hours a day, 7 days a week. 
HOW? I will offer a free consultation with the first PT session free to understand your current lifestyle and habits. Using this information, we will be able to set realistic goals and create a customised workout plan that is fun and rewarding, along with some nutritional guidance to maximise performance, improve endurance and increase overall wellbeing. I will provide continuous support and motivate you throughout your journey by monitoring your progress and making any necessary changes to your plan.
The key to your success is YOU!! Staying consistent and making those small incremental changes to achieve a better version of YOU. If you want to make the change or not sure where to begin – Please get in touch!!
Specialist Areas
Body fat reduction
Muscle tone and development
Nutritional guidance
Strength and conditioning
Weight loss
Qualifications
Level 2 Gym Instructor
Level 3 Personal Trainer
First Aider