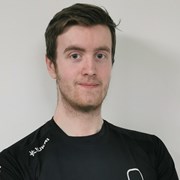 Ryan McCreanor
My fitness journey began several years ago after school when I wanted to lose weight. After achieving my goals I then set my mind to increasing my strength and building some muscle mass. This was not an overnight fix or a short term change. I had to dedicate and commit myself to changing habits and my mindset in order to achieve what I wanted.
My aim when working with clients is to help you achieve those goals that you never thought possible. I believe everyone can achieve what they set their minds to and I'm here to guide and support you to reach those goals and push you above and beyond your own ability.
I am available to work with anyone who struggles to lose weight, build muscle or lack the motivation to get their fitness journey started. I also specialise in exercise referral so feel free to contact me through email, phone, or grab me for a chat in club to get started today.
Specialist Areas
Body fat reduction
Muscle tone and development
Nutritional guidance
Persistent motivation
Weight loss
Qualifications
Level 3 Personal Training
Level 2 Fitness Instructing
Level 3 Exercise Referral