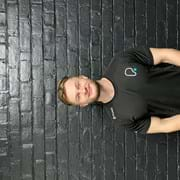 Ross Webster
Do something today that your future self will thank you for!
Hi, I am Ross. I'm an approachable, enthusiastic and passionate PT with 5 years experience under my belt. I have helped dozens of women and men alike with varying starting points smash through their fitness goals! I am constantly looking for ways to improve my service and my coaching style is always evolving - I focus on education, as I strongly believe client adherence is higher when the client understands why we are doing certain things regarding diet or training so you can continue to progress when we eventually go our separate ways!
How it works?
We start with a consultation to understand what your fitness and lifestyle goals are and then agree upon a game plan, no matter what your experience level is!
Sessions are 60 minutes long and are tailored to you and your goals.
All of my clients benefit from a full bespoke training programme in addition to our PT sessions so you are not lost without me and can learn to master the gym yourself! 
Diet and macro adjustments are made throughout to help you maintain progress and hit your goals. 
Feel free to book in a free consultation with me at [email protected] or look at some of my client work and drop me a DM at ross_webster_fitness
Specialist Areas
Body confidence
Body fat reduction
Injury prevention and rehabilitation
Muscle tone and development
Special populations
Strength and conditioning
Weight loss
Qualifications
Level 2 Gym Instructor
Level 3 Peronsal Trainer