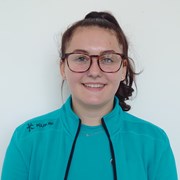 Contact
Paris Birkett
Hi!
I'm Paris, and I'd like to share with you my journey so far…
I made the life-changing decision at 14 years to pursue a career in the military, and at the age of 16 that's when my training really started. I started pushing myself with running, doing longer distances and faster times every day, and with hindsight I didn't give my body time to rest and recover…
When the time came to apply at 16, I was both so mentally & physically exhausted that my application was declined on medical terms. This had a huge impact on my self-confidence, but having lots of support from my family, I decided not to give up. I started training again and set the goals that I needed & wanted to achieve. I went to college where I studied about the body and the effects of exercise: - I put all my knowledge & passions into this and gained my confidence back!
And here I am! Just 19 years old and living my best life, with my dream job as an army reservist (combat medical technician), a cadet instructor and a personal trainer! I want to push people in the right direction to feel confident in a gym environment, and with themselves, and not making the same mistakes I did.
Let's reach those goals together, with both my motivation and knowledge & your perseverance!
Specialist Areas
Bespoke plan
Body confidence
Body fat reduction
Muscle tone and development
Persistent motivation
Special populations
Sport specific training
Strength and conditioning
Weight loss
Qualifications
Level 2 fitness instructor 
Level 3 personal trainer
Level 3 massage therapist 
Level 3 Diploma in Sport & Physical activity